Clarke named in Test squad
Australian batsman back in squad but still dealing with problems
Last Updated: 10/03/10 10:00am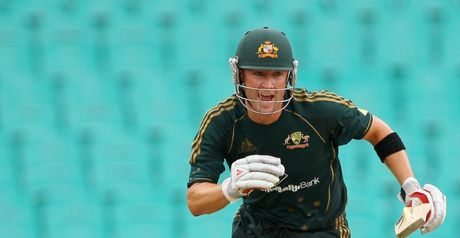 Clarke: Back in the Test squad
Australia vice-captain Michael Clarke has been named in the Test squad to face New Zealand but may not return due to his personal problems back home.
Clarke left the one-day Chappell-Haldee series in New Zealand to be with his fiancée Lara Bingle, who is currently suing a former boyfriend after pictures of her were published in a magazine.
Cricket Australia delayed the naming of the Test squad but, despite naming Clarke in the party, they are still not sure he will be taking his place in the line-up.
The 28-year-old is keeping in contact with Australian officials and they are hopeful that he will be able to rejoin the team in New Zealand.
"I've talked to him over the last few days and we have a Test tour looming," Cricket Australia spokesman Michael Brown said.
Group
"I would hope he's part of that group. But unless he's ready to go, there's no point going.
"We'll talk again over the next couple of days and our intention hopefully is to get him back in the side for the test match."
Tasmania's George Bailey has replaced Clarke in the limited overs series, but it is not sure yet if he will also replace him in the 14-man Test squad should Clarke not make it.
Australia skipper Ricky Ponting said that the full squad would be supporting Clarke whether he returns to the tour or not.
"He knows from all of us within the team that he has got all the support that he needs," Ponting said.
"The last thing that I said to him before he left was for him to take as much time as he needed and hopefully we can do the right thing over here and win the series without him."
Australia lead the five-match Chappell-Hadlee series 2-1 after their win in Hamilton on Tuesday.