Foam rides to Broad's rescue
Bright idea from Prior eases seamer's pain
Last Updated: 09/03/10 9:27am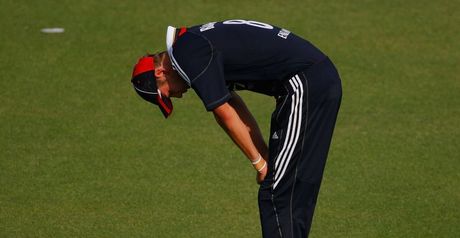 Broad: experiencing back problems
Stuart Broad has renewed hope of being fit for England's first Test with Bangladesh on Friday and revealed it was largely due to a roll of foam and a hotel maintenance man.
The seamer has been struggling to shake off a persistent back problem after initially injuring himself in the one-day series with the Tigers.
Broad had been experiencing back spasms and his rehabilitation was not aided by a cramped flight from Dhaka to Chittagong and an uncomfortable hotel bed.
However, the 23-year-old has seen his condition improve in recent days and revealed he had some quick thinking from Matt Prior to thank.
"The beds in our hotel are incredibly hard - like someone has laid down a boundary board - and that hasn't exactly been the most enjoyable experience with my back until we got some foam put down," he explained.
"The foam in the bed idea was actually Matt's. I'm in the connecting room and all I can hear was him moaning about the bed and it creaking with each turn.
"The next day some maintenance guy from the hotel walked in with a massive bit of foam and we cut it up so that we each had enough for our beds, now a few of the other lads have followed suit.
"The problem was the spasm and now that has gone so there is only a little bit of soreness left in the back.
"It has loosened up a fair bit now."
No chances
However, while he has resumed running and light bowling, Broad insists he will not jeopardise the team's prospects if he is not fully fit in time for the series opener.
"I've bowled a bit earlier than first hoped," he continued. "That gives us time to get a proper gauge on how it is because I certainly won't declare myself fit for a Test match if I'm not 100% sure I can bowl for five days.
"That would be unfair on the team, so I will only be up for selection if we know I'm fully fit.
"The key for me is to be able to bowl as hard as I can on Thursday, but if I can't then I won't be able to honestly say that I'll be fit for a Test match."
Meanwhile, Graham Onions has also started training again having experienced a back complaint of his own.