Tug of war for Haskell
RFU reject Stade's demands to release flanker
Last Updated: 02/03/10 10:36am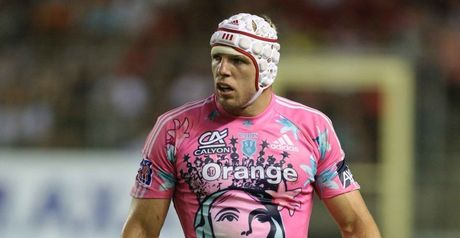 Haskell: Club v country row
Flanker James Haskell has found himself at the centre of a 'club v country' row over his availability.
Haskell, who scored two tries in the RBS Six Nations opener against Wales, has been ordered back to France by his club Stade Francais.
However, England have refused Stade's request for him to return to France for the 'classico' game against Toulouse on Saturday - with the RFU claiming they have an agreement with the Paris club that means they do not have to release Haskell.
An RFU spokesman said: "We've received a request but no, he is not going back.
"We reached an agreement with Stade Francais last summer and it is in James' contract that he is available during elite player squad periods, so we are under no obligation to release him."
Stade owner Max Guazzini, though, has insisted that no agreement is in place.
"We've contacted the English federation (RFU) to ask them to release Haskell," Stade owner Max Guazzini said.
"We also contacted the player to ask him to return immediately. Stade Francais is not an English club, and is not bound by this agreement.
"We're very generous before the start of the tournament for training sessions, but this is the classico against Toulouse at the Stade de France, not just another match.
"The coaches can take the decision as to whether he plays or not, but he must at the very least be available for selection."