Lee - It may all be over
Latest injury is paceman's most painful to date
Last Updated: 16/02/10 2:17pm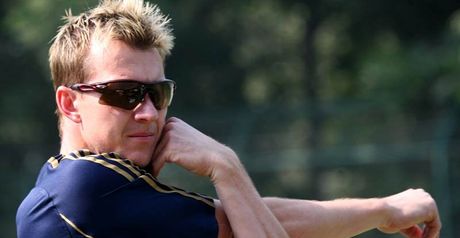 Lee: 310 Test wickets
Australian fast bowler Brett Lee admits he may never play for his country again as he battles to recover from elbow surgery.
The 33-year-old underwent an operation in December which has sidelined him for the entire Australian summer.
Lee also missed the Ashes Test series last year after suffering a side strain before the opening Test in Cardiff.
He has not played a Test for his country since late 2008 and while he has remained an important part of Australia's one-day team, he has no idea what the future holds.
Lee told the Herald Sun: "As far as my cricket goes, anything is possible - I may play one-dayers, or no cricket at all."
Despite his injuries, the paceman has taken 310 wickets in 76 Tests for Australia.
Satisfied
"I may never bowl another ball and if that's the case, I'm so satisfied with my career and my longevity. I'm not saying it's definitely over, but I'm not sure what I want to be just yet," he added.
"To be perfectly honest, I'm not sure what I still want to do in my cricketing life. I need to get to the stage where, if I want to, I can do what I need to do on the field.
"If it's the case that I don't play again, well, that's the case. There is a part of me that would like to play some sort of cricket again."
Lee admitted that his current injury is the most painful he has had to endure.
And with no timescale yet on when he will be ready to return to bowling, let alone the playing field, he is resigned to a slow rehabilitation.
"This has been the hardest surgery I've been through. It's certainly been the most painful," he said.
No miracle
"There's no miracle treatment for me. It's taking time. I still don't know when I'll be able to bowl again. I can't even give you an exact time.
"I will see how the arm pulls up because I can't achieve any aspirations in cricket unless my body is functional. It just takes time really. It's something I can't rush."