Scotland suffer Hines KO
Lock ruled out of Cardiff clash
Last Updated: 10/02/10 4:05pm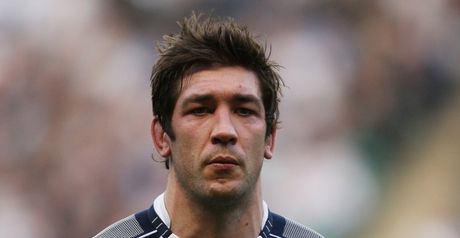 Hines: Injury blow
Scotland lock Nathan Hines has been ruled out of Saturday's RBS Six Nations game with Wales after suffering a calf injury.
Scottish Rugby announced the news on Wednesday, with Edinburgh's Jim Hamilton set to replace the Leinster forward in the starting XV.
Team doctor James Robson said: "Nathan suffered a calf strain and aggravated an old ankle injury during the match at the weekend.
"Whilst the injury has settled considerably, it is not at a level adequate for exposure to the rigours of Test match rugby and therefore Nathan is withdrawn from selection."
Head coach Andy Robinson wished Hines a speedy recovery and explained why Hamilton, 27, had been selected ahead of Richie Gray, who was already on the bench for this weekend's game.
"I welcome Jim back into the squad following his own recovery from injury," Robinson said.
Like-for-like
"We're going with Jim as he's our like-for-like with Nathan and will help us to get a platform should we look to get our mauling game going. Jim is also an experienced player."
Hines' withdrawal brings the total number of changes from Sunday's defeat to France to four.
Dan Parks, Euan Murray and Rory Lamont were all recalled on Tuesday following the dispiriting 18-9 defeat at Murrayfield.