New deal for Reihana
New Zealander extends stay at Saints by a further 12 months
Last Updated: 26/01/10 8:43am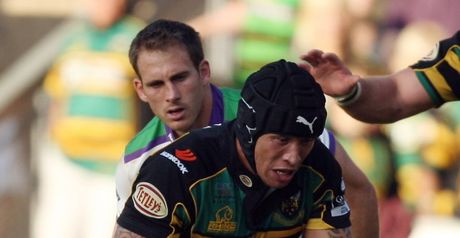 Reihana: New deal
Bruce Reihana wants to be part of the good times ahead at Northampton after extending his contract with the club.
"Now we are starting to get to where we should be and I want to be a part of what's ahead of us."
Bruce Reihana Quotes of the week
The 33-year-old has agreed a new 12-month contract with the Saints - with the popular back having made 198 appearances in eight years at Franklin's Gardens.
Reihana has scored 986 points during this period and is poised to become just the fifth Saint to score 1,000 points for the club.
And having remained loyal to the club even when they were relegated from the Guinness Premiership, the former All Black believes that the club is on the verge of something special.
"One of the big reasons I decided to stay was that I've been through thick and thin with the club. I've chosen to stay twice when I could have gone elsewhere to try and help the club get back to where it should be," he said.
"Now we are starting to get to where we should be and I want to be a part of what's ahead of us.
"I'm very settled in Northampton. I've been here for just over eight years and have been supported very well here.
Enjoyable
"My decision to stay, and hopefully finish my career here, was because of the environment, the supporters, the team we have now and the direction we're going in.
"We could be on the receiving end of something great. It's been a long road, but an enjoyable one to get back to where we should be."
Director of rugby Jim Mallinder has been full of praise of Reihana, who helped guide Saints to the European Challenge Cup in May 2009.
"Bruce remains one of the squad's leaders and is an excellent professional," he said.
"This season his standards of play have been outstanding and he has been one of our most potent strike weapons.
"He has also worked hard on every aspect of our game, and his long-range goal kicking turned several games in our favour earlier in the season.
"We have a young and developing squad and having experienced players like Bruce around is a big benefit to us. I'm very happy that he has signed on again with us."