Myler: Wolves aiming high
Half-back reveals Wolves have set sights on big prizes
By Rachel Griffiths. Last Updated: 19/01/10 11:10am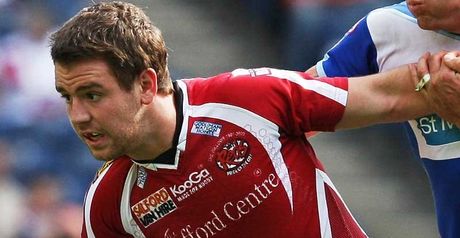 Myler: High expectations
England half-back Richie Myler has revealed Warrington will strive to reach both major finals in 2010.
"We've made goals that we want to be in both finals and, if we don't achieve that, we'll be disappointed."
Richie Myler Quotes of the week
The Wolves ended their lengthy hunt for silverware last August when they secured Challenge Cup glory for the first time since 1974 and the club have now been installed as third favourites behind Leeds and St Helens to emerge as engage Super League victors.
Myler, who has signed with Wolves for the upcoming season alongside centre Ryan Atkins and forward David Solomona, insists the team must set their sights high.
Expectations
"We've got a lot of expectations on ourselves," said 19-year-old Myler.
"We've made goals that we want to be in both finals and, if we don't achieve that, we'll be disappointed.
"We've got a great squad here so hopefully we can achieve everything we want to achieve."
Myler is expected to shine at Warrington after playing for England in 2008 ahead of his Super League debut with Salford.
The teenager's progress will no doubt be boosted by the guidance of Australian legend Andrew Johns, who had a brief stint as a player at Warrington in 2005 and is providing specialist tuition with the Wolves half-backs this week.
"He's the face of Australian rugby league and to get to train with him was crazy really," said Myler.
"I reckon if you had 10 minutes with him, you'd be a better player, so to have two hours a day every day of the week I was over the moon.
"He's taught me some personal things and stuff I can put into my game. He's helped me broaden my horizons."
Personal goal
Myler admits his ultimate individual target is to play for England in the end-of-season Four Nations series in Australia and New Zealand.
"That's a personal goal for me," he added.
"I want to be part of the England squad and I feel in this team, with the amount of good players around me, I've got a good chance."
Warrington begin their 2010 Super League campaign against Harlequins on February 7.