Lee positive over comeback
Injured paceman confident of playing in the World Twenty20
Last Updated: 04/01/10 11:14am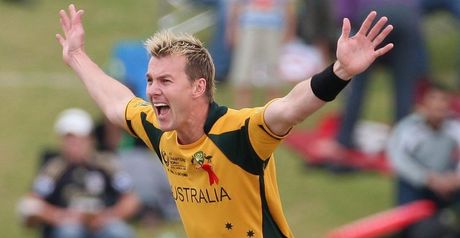 Lee: Positive
Injured bowler Brett Lee insists he remains "positive" about his chances of returning to the Australia team in time for the World Twenty20.
The 33-year-old is currently sidelined after undergoing an operation to repair ligament damage to his right elbow.
But Lee, who has not played cricket since turning out for New South Wales in November, is confident he can be back in time for the tournament in May.
"It has been a 16-week injury with ligament damage and there's a couple of bone spurs in there which have been taken out," Lee told Channel Nine.
"I've had 12 operations now. This has probably been the worst. It has probably been the most painful.
"I'm pretty positive. Let's wait and see what happens. I'm 33. I would love to get to the Twenty20 World Cup in the West Indies.
"It all comes down to how the elbow feels. If it pulls up okay in 12 weeks, I'll see how it goes. There's a bit more cricket left in me yet.
"I certainly haven't given up. It's just a matter of seeing how everything pulls up and seeing how hungry I still am.
"With the last six or seven weeks I've had off, it has been great to get away from cricket."