Gayle brands Watson 'soft'
Windies keep up war of words against Australia
By Rachel Griffiths. Last Updated: 23/12/09 11:37am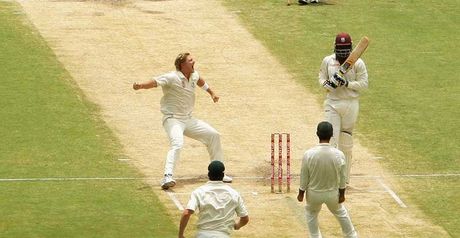 Flashpoint: Watson celebrates dismissing Gayle
West Indies captain Chris Gayle has continued his side's verbal sparring with Australia by hitting out at rival all-rounder Shane Watson.
"Yeah, he's soft. He only looks big and strong but he's soft"
Chris Gayle Quotes of the week
The Test series may be wrapped up but Gayle was quick to take a shot at his opponent as he spoke in Perth with his new Western Australian team-mates ahead of the Big Bash competition.
Gayle was less than impressed with Watson saying he was provoked into his extravagant celebration of the skipper's wicket.
Watson had Gayle caught behind just before lunch on the fourth day of the last Test, the captain's wicket critical to Australia sealing their 35-run victory at the WACA the following day.
Gayle calmly walked off the field but Watson celebrated by marching down the pitch and screaming in the batsman's face.
Charged
Watson, who was subsequently charged by ICC referee Chris Broad with bringing the game into disrepute and fined 15 per cent of his match fee, claimed he was unembarrassed by his actions and insists he was provoked by Gayle.
But the skipper has responded by rubbishing Watson's argument and branding his rival as "soft".
"It's one of those things," said Gayle.
"He said I bait him. (But) you asked me the question earlier if I catch fish - maybe I might use him as a bait to catch a fish. He's so easy to get wound up over silly things.
"Yeah, he's soft. He only looks big and strong but he's soft."
The incident punctuated an ongoing war of words, which appears to be the result of escalating tension between the two sides that saw Dwayne Bravo clash with an injured Ricky Ponting on the first day of the third Test, before Sulieman Benn's heated run-in with Mitchell Johnson and Brad Haddin.