Vaughan: The Wright choice
Former captain tips all-rounder to succeed in South Africa
Last Updated: 04/11/09 8:29am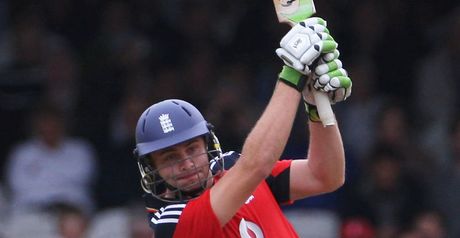 Wright: Should play for the Test team
Sussex all-rounder Luke Wright has been backed to help fill the void left by Andrew Flintoff for the Test series against South Africa.
With Flintoff having retired from Tests and Steve Harmison omitted from the touring party, former captain Michael Vaughan believes that England need to play with a fifth bowler.
And rather that forcing the versatile Stuart Broad up the order to bat at number seven, Vaughan claims that Wright has the qualities to fill the all-rounder role against the Proteas.
However the Yorkshire batsman knows that the inclusion of Wright means one of the batsman will miss out with Paul Collingwood and Ian Bell most at risk.
"The key will be getting the right balance going into that first game," Vaughan said.
"I think they'll need five bowlers so someone like Luke Wright has got a great chance.
"I don't want to see Broady go to seven just yet - I think it will happen but not at this stage - so I think Luke Wright could get a spot.
Brilliantly
"One of the batters will probably miss out. I'm not too sure who because I think (Jonathan) Trott should play, (Kevin) Pietersen should play - it'll be between Collingwood and Bell to see who gets that final spot."
Vaughan has backed the decision of the selectors to leave Harmison at home, believing the time is right to give the young players the chance to shine.
"Once Steve Harmison started making noises about not going to Australia in 12 months' time, I think it was right for them to move on with a new set of players," he said.
"In an ideal world you'd maybe want one more tall bowler who can bowl at 90mph.
"(But) they've moved on. You have to give these young players time to develop as a team.
"They did brilliantly in the Ashes. Harmy didn't play that much, Fred didn't play an unbelievable amount.
"He'll be missed because of the character and the 'X Factor' he brings to the ground but (Graham) Onions, Broad, (James) Anderson for me looks a pretty good bowling line-up with the back-up of a spinner like Graeme Swann."