Strauss - Broad's no Freddie
Captain asks for all-rounder to be given time to develop
Last Updated: 02/11/09 8:18am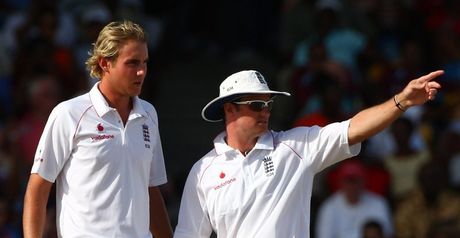 Broad (L) and Strauss
England skipper Andrew Strauss has warned against placing a burden of expectation on the shoulders of developing all-rounder Stuart Broad.
LIVE ON SKY SPORTS Watch England's your of South Africa live on Sky Sports and online with Sky Player. You can also catch match highlights on skysports.com.
"It's not a realistic expectation for Broad to fill Flintoff's shoes in both disciplines in the short term."
Strauss on Stuart Broad Quotes of the week
England head to South Africa this winter to take on the world's number one-ranked Test team with Broad's form likely to be a key factor in their success.
With Andrew Flintoff having retired from the Test arena, the 23-year-old has been identified by many as the man to take on the all-rounder's mantle - especially after his performances in helping England regain the Ashes against Australia over the summer.
However, Strauss is wary of expecting too much too soon from Broad and has asked for his young charge to be given time to continue his development without unreasonable demands being placed on him.
"Stuart has his head screwed on," Strauss stated. "There has been a lot of media attention on him, but he realises that there's much room for him to improve.
"He's excited about that and he's very keen to contribute to this team.
"We're excited about him, but the last thing I want to do is put a huge amount of expectation on his shoulders.
"You must give people room to improve, and we hope he'll continue that development this winter.
Realistic
"It's not a realistic expectation for Broad to fill Flintoff's shoes in both disciplines in the short term.
"It would be wrong to heap that expectation on his shoulders.
"Over the years, we've had to do without Flintoff quite often - and what we've found is that we've done quite well by everyone taking responsibility and playing a bit better.
"Stuart Broad is not a like-for-like replacement for Flintoff anyway. But he has his own set of skills, some of which are world class and some of which need work.
"We don't want him to be the saviour we turn to - we need all 11 to do that."
And Strauss is also determined that there will not be a repeat of the poor form that followed England's last Ashes triumph in 2005, although he remains adamant that there were mitigating circumstances at that time.
"The perception of the post-2005 period is that we took our eye off the ball quite badly," he added.
"I'm not comfortable with that myself. I remember that Pakistan tour and how hard we worked at it. We had a number of very crucial injuries - which didn't help."