Akmal found not guilty
Pakistan star cleared of charge
Last Updated: 05/10/09 2:43pm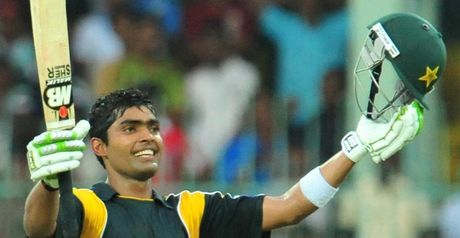 Akmal: Cleared of charges
Umar Akmal was found not guilty for breaching the ICC Code of Conduct during Pakistan's Champions semi-final against New Zealand at the Wanderers on Saturday.
In a hearing convened by Javagal Srinath of the Emirates Elite Panel of ICC Match Referees on Sunday, the middle-order batsman pleaded not guilty to contravening Level 1.3 of the ICC Code of Conduct for Players and Team Officials which relates to "showing dissent at an umpire's decision".
The incident took place in the 41st over of Pakistan's innings when Umar was given out lbw.
"Umar's reaction at being dismissed at such a crucial phase of the innings in the all-important match of a global tournament was more of a disappointment than anything else.
"Having been in these situations in the past, I understand how a player reacts or can express himself but I don't think there was anything other than disappointment in this incident," said Srinath.
All Level 1 breaches carry a minimum penalty of an official reprimand and a maximum penalty of 50 percent of a player's match fee.
The charge was brought by third umpire Daryl Harper, fourth umpire Steve Davis as well as on-field umpires Simon Taufel and Ian Gould.
Srinath reached his conclusion after a hearing attended by the umpires, the player in question and Pakistan coach Intikhab Alam. For Level 1 breaches of the ICC Code of Conduct the ICC match referee's decision is final and binding.