Injury concern for Colly
Pain in the buttock for England all-rounder
By Joe Drabble. Last Updated: 03/10/09 5:45pm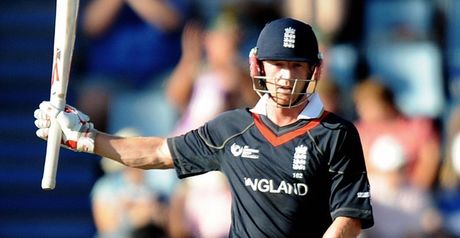 Collingwood: Buttock complaint
Paul Collingwood's participation in the Champions League is in doubt after the all-rounder picked up a buttock injury in the ICC Champions Trophy semi-final defeat to Australia.
Collingwood, who was one of England's star performers during the 50-over event, will undergo a medical check when he returns home from South Africa.
As well as his commitments with Durham and England, the 33-year-old is contracted to play for Indian Premier League side Delhi Daredevils in the 20-over club competition held in India from October 8-23.
The injury is the same as the one which kept Stuart Broad out of Friday's nine-wicket defeat to the Aussies.
England head coach Andy Flower said: "We have a contract with the IPL about making our players available, however Collingwood has picked up a little niggle in his buttock.
"He is going back to England with us and will have a scan. A proper assessment and decision will be made on him.
Gruelling
"It is a genuine injury. We don't know how bad it is but he definitely did something when he played one of his first pull shots on Friday against Australia.
"He actually struggled through the game with that problem. It is not in any way trying to get him rest."
With England's Test and one-day tour of South Africa beginning on November 1, pace bowler Broad has four weeks to rest up and prove his fitness ahead of the gruelling tour.
The break will also give the Nottinghamshire star the chance to rest his troublesome left knee.
Flower said: "He has been playing a lot of cricket and he's only a young bloke.
"He needs to get this balance between rest and strength and conditioning. Our physical people work closely with him on that."