Fourie banned for a month
Springbok centre punished for dangerous tackle
Last Updated: 13/09/09 1:02pm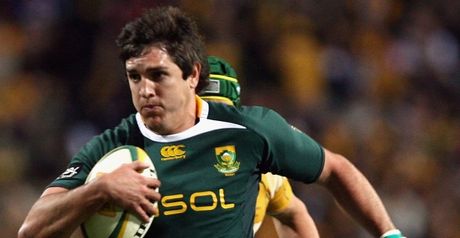 Fourie: banned until October 19
South Africa's Jaque Fourie has been handed a four-week suspension for a dangerous tackle on All Blacks centre Ma'a Nonu in the Springboks' 32-29 Tri-Nations victory on Saturday.
Fourie was cited by match commissioner Scott Nowland and appeared before a judicial hearing on Sunday in Hamilton.
The 26-year-old argued his tackle in the 70th minute had been reckless but unintentional, ruling body SANZAR revealed in a statement.
Judicial officer Paul Tully said after reviewing video evidence and hearing submissions that the tackle had been "clearly dangerous and placed the player in a vulnerable position when he landed on his neck and shoulder".
Fourie's suspension does not begin until September 26, as he was not intending to play next week, and runs until October 19.
The Springboks' victory at Waikato Stadium secured their first Tri-Nations triumph since 2004.