Harmy ready to step aside
England paceman undecided over future
By Joe Drabble. Last Updated: 25/08/09 9:43am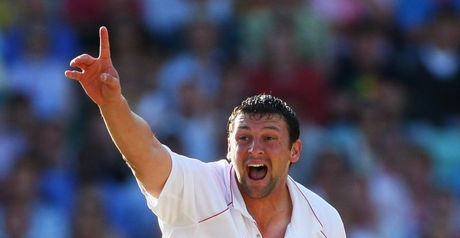 Harmison: Unsure over future
England fast bowler Steve Harmison admits he is still undecided over his Test match future.
The Durham seamer took three wickets in the second innings of England's Ashes triumph at The Oval, however he has endured an indifferent Test career since becoming the number one ranked bowler in the world in 2004.
Harmison, 30, has taken 226 wickets in 63 Tests but only featured twice in the victorious Ashes series and is not a certainty to make England's squad for the winter tour of South Africa.
Speaking on his future, Harmison said: "I've got an idea in my mind what I want to do.
"Anybody who plays for their country never wants to give it up but there is going to come a time when you have to say 'well it's time for me to move aside because there are other people who can do as good a job - if not a better job - as me'.
Rash decision
"I always believe you plan for the Ashes and for the next Ashes and I'll sit down with Andrew Strauss and Andrew Flower and if they want me to go to South Africa, I'll go.
"If they are saying 'we're going to take this in another direction', then I'll gladly step aside."
Sunday's victory over Australia saw Harmison become a double Ashes winner having been involved in the infamous 2005 success.
And the Durham ace admits he is going to finish celebrating the achievement before he makes a rash decision over his future.
He said: "All I am going to do is enjoy this moment because at the end of the day, I wasn't in the side at the start of the summer and that decision probably wasn't going to be made.
"Now I've forced my way back in like last year, who knows."