Sivivatu signs up
Top try scorer signs new deal with New Zealand until next World Cup
Last Updated: 17/06/09 9:57am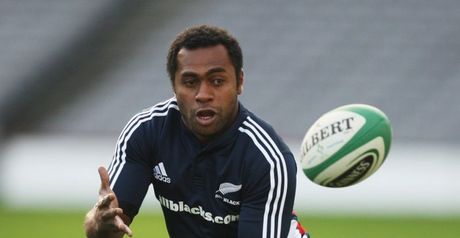 Sivivatu: Top try threat
All Blacks winger Sitiveni Sivivatu is the latest player to commit his future to the New Zealand national side up until the 2011 World Cup.
The Fiji-born 27-year-old is one of the best attacking players in the All Blacks' squad, with a fine scoring record of 24 tries in just 34 Tests.
Sivivatu, who bagged four tries on debut against his native Fiji, joins the likes of Dan Carter, Richie McCaw and Mils Muliaina in signing up with New Zealand up to the next World Cup.
In a statement released to reveal his decision, Sivivatu explained that he was more than happy to remain an All Black for the foreseeable future.
"I discussed my future with my family, and we decided that our future is here in New Zealand," Sivivatu said in a statement.
"I love playing in the black jersey - as well as for the Chiefs and Waikato - and that's why I have re-signed."
New Zealand Rugby Union chief executive Steve Tew was also delighted as he welcomed the deal.
"Rugby fans both here in New Zealand and overseas know just how much of a remarkable player Sitiveni is, and we are delighted to have him re-sign with New Zealand rugby," he said.
New Zealand rugby has been under pressure with several of their high profile players being lured away with lucrative offers from European clubs.
However, a solid core of their top talent are now signed up for their next assault on the World Cup title that has evaded them in recent tournaments.