Dhoni - IPL provides edge
India skipper optimistic ahead of World Twenty20
Last Updated: 01/06/09 9:20am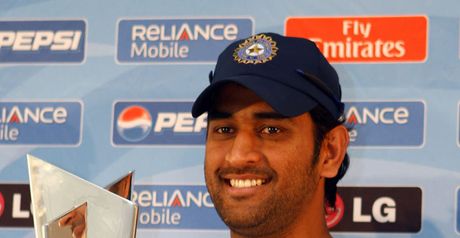 Dhoni: upbeat on title defence
Mahendra Singh Dhoni believes India's defence of the ICC World Twenty20 will be aided by their squad's experience in the Indian Premier League.
Watch every ICC World Twenty20 match live on Sky Sports or log on to skysports.com for live, interactive text commentary
"We have the cream when it comes to the T20 format."
Mahendra Singh Dhoni Quotes of the week
India won the inaugural global 20-over event in South Africa two years ago, beating rivals Pakistan in a thrilling final.
And the IPL, the franchise-based Twenty20 competition which has just completed its second season, has ensured India's players have since had plenty of exposure to cricket's shortest format.
Dhoni feels the IPL provides his squad, all of whom play in the competition, with an edge over many rival countries.
"We have the cream when it comes to the T20 format," he said.
"All the guys have done well very in the IPL and have been playing T20 and one-day formats for quite some time.
Pressure
"That puts less pressure on each individual and really helps.
"It will help us, but not only us, because quite a few players from other countries also participated in the IPL.
"But it has helped us more because most of our players were playing in the IPL.
"The best thing (about the IPL) is that the youngsters know how to handle pressure - because that is what international cricket is all about.
"The guys who have played it more have an edge."
The World Twenty20 takes place in England from June 5-21. India are drawn in Group A alongside Bangladesh and Ireland.