Saints snap up Vickerman
Former Wallably agrees one-year deal with Northampton
Last Updated: 26/05/09 7:59am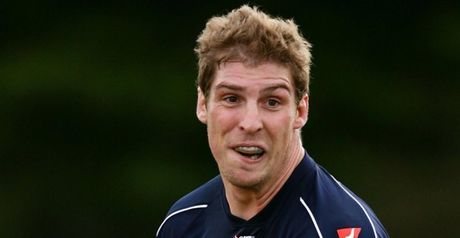 Vickerman: Joining Saints
Northampton Saints have bolstered the pack with the signing of former Wallaby and Waratahs lock Dan Vickerman on a one-year deal.
"Northampton is a club that has made great strides with the results that the team have had this year."
Dan Vickerman Quotes of the week
Vickerman seemed to have turned his back on professional rugby to concentrate on his studies having left the Waratahs following the 2008 Super 14 final to read land economy at Cambridge University.
But the 29-year-old, who played for the Light Blues in the 2008 Varsity match, will now combine his academic commitments with playing and training at the Saints
"Northampton is a club that has made great strides with the results that the team have had this year," Vickerman told the club's official site.
"I've watched them play and they play a great brand of rugby. I will also be wanting to grow as a player. Rugby is a game in which you're continually learning and it will be fun playing under Jim and his coaching staff. And if I can contribute to the club getting better then that would be great too.
Enthusiasm
"Another good thing about the Saints is the tradition and enthusiasm for rugby that the club and its supporters have and I'm looking forward to experiencing that in person."
Vickerman, who played for South Africa Under-21s before going on to win 55 caps for Australia, arrives at the Saints with a wealth of experience.
And it is that experience which director of rugby Jim Mallinder will be looking to tap into.
"While players like Courtney Lawes and Juandre Kruger have performed well over the past few months it is easy to forget that they are still in the early stages of their careers and have plenty to learn," he said.
"Having a player with the experience of Dan Vickerman will help them, and the other young players in the Saints squad, develop.
"Going forward our squad has to have this blend of youth and experience and Dan will bring considerable know-how from his time with the Wallabies, New South Wales and the ACT Brumbies.
"I am delighted that he has decided to join us here at Franklin's Gardens and hope that he will be a big part of the club's future."