Younus: Attack was deplorable
Pakistan captain reveals his team's bus had previously travelled alongside Sri Lanka's
Last Updated: 04/03/09 8:03am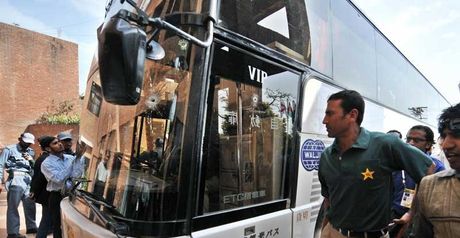 Younus: Deplorable act
Pakistan captain Younus Khan has called the terrorist attack on team buses carrying the Sri Lanka team and match officials in Lahore "a deplorable act".
"This is a deplorable act and it's completely unacceptable"
Younus Khan Quotes of the week
Six policemen and two civilians were killed when the buses came under fire as they travelled to the Gaddafi Stadium ahead of the third day of the second Test.
Seven Sri Lankan players as well as assistant coach Paul Farbrace were injured, while fourth official Ahsan Raza is in a critical condition in hospital after being wounded.
"This is a deplorable act and it's completely unacceptable," Younus said.
"They were our guests and it's awful to see such incidents happening."
Delay
Younus said that Pakistan's bus had travelled alongside those of Sri Lanka and the match officials on the previous two days of the Test, but had been delayed on Tuesday morning.
"We normally leave together, but today we were delayed and the Sri Lankan team went ahead of us," he continued.
"It would have been catastrophic had both buses gone together."
Younus added that he had spoken to Sri Lankan players after the incident and also praised their driver, who was able to steer the bus clear of the ambush attack.
He added: "They were courteous and took the incident in their stride. They merely termed it 'a bad experience' and they have no ill feeling towards this country.
"We are thankful that none of the players suffered fatal injuries and the courage of the bus driver must be praised.
"I heard Muttiah Muralitharan presented him with a team jersey. It was a great gesture."
Pakistan coach Intikhab Alam said his team had left their hotel but were told to turn back after going a short distance.
"We heard about the attack only when we had reached Mall road and were immediately told to return back to the hotel," he said.
"It was a terrifying incident and we sat down together worried about the Sri Lankan players' safety.
"We later got in touch with them and their manager."