Ambrose readying himself
Wicketkeeper prepares for fourth Test with knock of 74
Last Updated: 24/02/09 12:35pm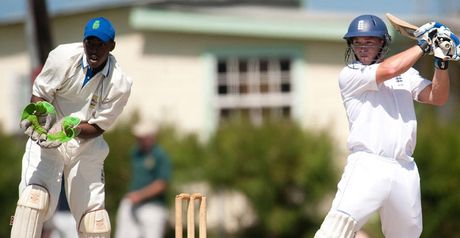 Ambrose: Handy
Tim Ambrose has told Sky Sports News he hopes his innings in England's tour match which concluded on Monday is a portent of things to come in the fourth Test.
Watch the fourth Test live on Sky Sports 1 and HD1 or log on to
skysports.com for live, interactive text commentary
England's second choice wicketkeeper has once again taken centre stage after Matt Prior's departure home following the birth of his first child.
Having usurped Prior on last year's tour of New Zealand, Ambrose's performances with the bat during the summer's series loss to South Africa led to him being dropped.
However, making his first England appearance of the winter, the 26-year-old hit 74 as England drew with a Barbados Cricket Association President's XI.
"It was handy to get some time in the middle," Ambrose said. "It's been a little while so it was good to spend some time out there and get adjusted to conditions and whatever else.
"It is handy that it is just a few days away from the game as well, so great."
With Prior returning for the fifth Test in Trinidad, Ambrose also claimed he did not necessarily consider the call-up as a chance to re-establish himself.
"It is a chance to help win the game for England," he countered. "That's what we are here for. We have got the series to win.
"We are 1-0 behind and we need to get back into it in this game. It is a chance to contribute and hopefully help us win a Test match."
Morris hopeful
Meanwhile, England managing director Hugh Morris expressed his hope that Andrew Flintoff, who has been ruled out of Thursday's match after suffering a strained muscle in his right hip in Antigua, would be fit for the fifth Test.
"It is an injury that we are looking at on a regular basis. We have our medical team out here, we have a doctor and a physiotherapist, they will be looking at Andrew on a daily basis and looking at his progress," he said.
"So we are hoping that that will be the case that he will be available for selection in and around Trinidad."