New deals for Lewis, Taylor
Stalwarts pledge future to county
Last Updated: 09/02/09 5:24pm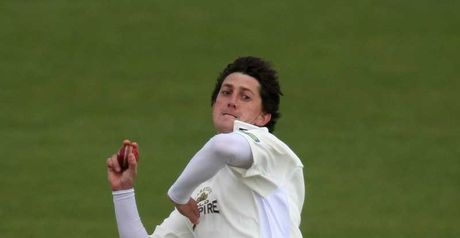 Lewis: Stalwart
Gloucestershire have signed club stalwarts Jon Lewis and Chris Taylor to fresh deals that will see them through the 2011 season.
The pair, whose contracts were due to expire at the end of the coming campaign, have accepted two-year extensions.
Lewis, who played one Test for England as well as 13 one-day internationals, joined the county in 1995 and has taken 621 first-class wickets at an average of 26.86.
Taylor made his debut in 2000 and has since scored 6,436 runs at an average of 34.6, while he is also the current fielding coach.
Both players have played only for Gloucestershire - Taylor captaining the club in 2004 and 2005, with Lewis the skipper in 2006 - and the county's chief executive Tom Richardson was thrilled to hold on to the pair.
Richardson said: "Jon and Chris have been key players for us over a number of years and we look forward to them continuing in the same way.
"We are committed to keeping our best players at the club and building around them for future success. This is a major step towards those aims."
Meanwhile, the county have also announced that they have given a two-year contract to former England Under 19 all-rounder Rob Woodman.
The 22-year-old, who is a left-handed batsman and left-arm seamer, previously played a handful of matches for Somerset in 2005.
However, he was given a chance at Bristol in the final championship match of last summer and has now been handed a long-term deal.