Seven English on auction list
Pietersen commands highest price of any player on list
Last Updated: 13/02/09 3:39pm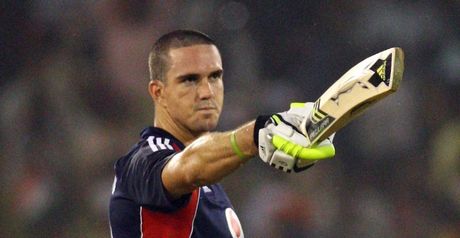 Pietersen: highest base price
Kevin Pietersen and Andrew Flintoff headline a total of seven England players who have been confirmed on the final list of 43 set to take part in the second Indian Premier League auction.
A total of 114 players from all over the world had been announced on the original list for the auction, but that number has now been trimmed down after consultation with the eight franchises.
Pietersen has commanded the highest base price of any player on the list at USD 1.35million, someway clear of the next most expensive, Australia vice-captain Michael Clarke who has been valued at USD one million. Flintoff's base price is USD 950,000.
Paul Collingwood, Owais Shah, Ravi Bopara, Luke Wright and Samit Patel are the five other England players to make the final cut, but Ian Bell and Matt Prior have both decided to withdraw.
The duo, like Stuart Broad, have opted to take a break from cricket after the tour of the West Indies rather than compete in the IPL to ensure they are in top condition for this summer's Ashes series against Australia.
Essex's Graham Napier is also close to finalising a contract with the Mumbai
Indians, but does not have to go through the auction as an uncapped player.
Perhaps unsurprisingly the likes of Dominic Cork and Darren Gough failed to appear on the list despite being named amongst the original group of England players in the reckoning for the auction.
Five Pakistan were also on the original list, but none appear on the final one after the PCB announced that they had been advised by the Foreign Office to ban their players from taking part in the competition due to security fears.
Final IPL auction list (base price in USD in brackets)
AUSTRALIA: Aaron Bird (45,000), Brett Geeves (45,000), Bryce McGain (50,000), Daniel Harris (50,000), Dominic Thornely (50,000), George Bailey (50,000), Jonathan Moss (50,000), Michael Clarke (1,000,000), Michael Dighton (85,000), Michael Hill (50,000), Phil Jaques (100,000), Shane Harwood (75,000), Shaun Tait (250,000), Steven Smith (75,000), Stuart Clark (250,000).
BANGLADESH: Mashrafe Bin Mortaza (50,000), Mohammad Ashraful (75,000), Shakib Al Hasan (75,000), Tamim Iqbal (50,000).
ENGLAND: Andrew Flintoff (950,000), Kevin Pietersen (1,350,000), Luke Wright (150,000), Owais Shah (150,000), Paul Collingwood (250,000), Ravi Bopara (150,000), Samit Patel (100,000).
NEW ZEALAND: James Franklin (50,000), Jesse Ryder (100,000), Kyle Mills (150,000).
SOUTH AFRICA: Gulam Bodi (100,000), JP Duminy (300,000), Morne van Wyk (100,000), Tyron Henderson (100,000), Yusuf Abdullah (25,000).
SRI LANKA: Chamara Kapugedera (150,000), Kaushalya Weeraratne (50,000), Nuwan Kulasekara (100,000), Thilan Thushara (100,000).
WEST INDIES: Dwayne Smith (TBC), Fidel Edwards (150,000), Jerome Taylor (TBC), Kemar Roach (50,000), Kieron Pollard (60,000).