Malik slams slow Shoaib
Pakistan skipper questions paceman's commitment
Last Updated: 21/01/09 6:13pm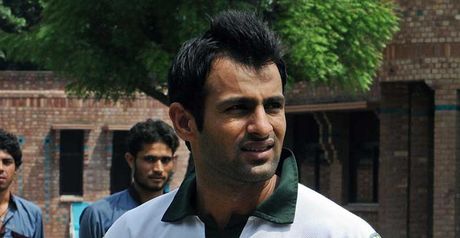 Malik: Less than impressed
Pakistan captain Shoaib Malik has launched a scathing attack on pace bowler Shoaib Akhtar after being fined 20 per cent of his match fee for a slow over-rate.
"We have to move forward and look to other youngsters."
Shoaib Malik Quotes of the week
Pakistan were ruled to have been two overs short of their target during their 129-run loss in the second one-day international against Sri Lanka in Karachi.
International Cricket Council referee Chris Broad also fined all of Malik's team-mates 10 per cent of their match fees after time allowances were taken into consideration.
Upon receiving his disciplinary charge, the Pakistan captain went on to launch a remarkable attack on Shoaib's commitment and worth to the team.
As well as criticising the 33-year-old's fielding, Malik accused his opening bowler of failing to bowl his 10-over allocation in the allotted time frame.
Chance
"The commitment which I need from him in the field is not there," said Malik.
"You need 11 players to lift a team. He (Shoaib) needs to bowl 10 overs with the same speed and then I also want him to field for 50 overs."
Shoaib, also known as 'The Rawalpindi Express', has made an unimpressive comeback to one-day international cricket after 14 months on the sidelines due to injuries and disciplinary issues.
The once-dominant bowler has taken just one wicket in the two ODIs against Sri Lanka, conceding 88 runs from 13 overs - bowling seven overs in the first match and six in the second.
"We have to move forward and look to other youngsters," Malik said.
"I will definitely talk to management and selectors because there are quite a number of good fast bowlers who deserve a chance."
Pakistan and Sri Lanka contest the third and final ODI in Lahore on Saturday.