Symonds' future in doubt
All-rounder facing Cricket Australia investigation
Last Updated: 25/11/08 8:45am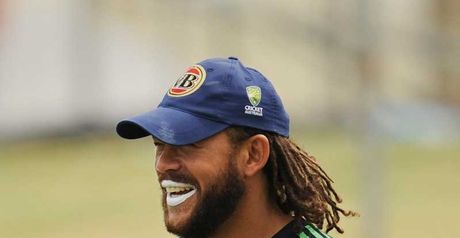 Symonds: Under investigation
Andrew Symonds' international future is back in the balance after the all-rounder's latest alcohol-related incident.
Symonds was involved in an incident with a member of the public at the Normanby Hotel in Brisbane while out drinking with team-mates and some Australia rugby league players.
And although Symonds has public denied reports of an altercation and received the backing of the hotel, Cricket Australia are investigating the reports and set to make an announcement on Wednesday about the all-rounder's future.
Symonds, who had only just been recalled to the national team after he was axed for missing a team meeting during the ODI series against Bangladesh, told the Brisbane Times: "A member of the public acted unreasonably towards me while I was with friends, at which time I took steps to remove myself from the situation.
"The member of the public was subsequently removed from the premises as a result of his actions.
"I was sharing some drinks with other players and close friends and did not in any way provoke this situation.
Committed
"I would also like to take the opportunity to clarify reports last week that I am being treated for alcohol addiction. I am being treated for a stress-related illness and I remain committed to dealing with these issues."
Mark Lassman, manager of the Normanby Hotel in Red Hill, backed up the 33-year-old and claimed Symonds was not at fault.
He said in a statement: "This is one situation that neither got out of hand, nor was Andrew's or the hotel's fault.
"It's disappointing that sportsmen cannot socialise without being harassed.
"Andrew did nothing wrong and it's disappointing it's been reported in an ambiguous manner.
"A patron at the hotel attempted to hug and take a picture of Andrew Symonds while he was at the hotel on Sunday night.
"Symonds declined the invitation, further to that the member of the public continued to harass Symonds.
"Security guards then asked the patron to leave for inappropriate behaviour."
Despite the on-going investigation by CA, Symonds has travelled with the squad to Adelaide for the second Test against New Zealand.