Gambhir, Watson in the dock
Duo face hearing after Delhi clash
Last Updated: 30/10/08 10:20am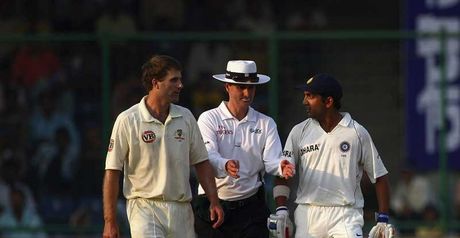 Katich and Gambhir also clash in Delhi
India's opening batsman Gautam Gambhir and Australia all-rounder Shane Watson have been summoned for an ICC Code of Conduct hearing after clashing during the third Test in Delhi.
Gambhir had hit Watson for a six to bring up his century and then appeared to elbow the bowler while returning for a second run during the last session of play.
The left-hander's reaction came after Watson had thrown an arm up in the direction of his face when the pair crossed paths during the first run.
Gambhir has been charged with a Level 2 offence under a clause which deals with playing the game in the right spirit.
Watson has been charged under the same clause but faces a Level I charge which carries a lesser penalty.
Reprimand
"The charges were laid by on-field umpires Billy Bowden and Aleem Dar and third official Suresh Shastri," an ICC press release stated.
Match referee Chris Broad will conduct the hearing which will be held after the second day's play.
If found guilty, Gambhir could be fined anywhere between 50 and 100 per cent of his match fees and could be banned for one Test or two ODIs.
Level 1 penalties range from an official reprimand and/or a fine of up to 50 per cent of the player's match fee.
India Zaheer Khan was found guilty of bringing the game into disrepute in the second Test in Mohali for his send off of Matthew Hayden and was fined 80 per cent of his match fee.