Malan - Bowlers were the key
Batsman's ton puts Middlesex through to finals day for first time
Last Updated: 09/07/08 8:29am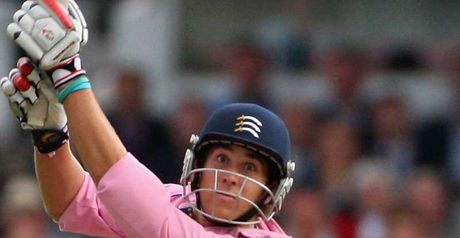 Malan: Match-winning century
Centurion Dawid Malan was quick to deflect praise onto Middlesex's bowlers after the Twenty20 Cup victory over Lancashire.
"The attack saves us quite a lot of games and also gives us decent targets to go for. They deserve credit."
Dawid Malan Quotes of the week
The Roehampton-born batsman, who grew up in South Africa, struck 103 to help his county recover from 21-4 to post a total of 176-7 at The Brit Oval.
Despite a half-century from Andrew Flintoff, the Red Rose county fell just short in their reply, meaning Middlesex move through to finals day for the first time.
While Malan was the star of the show, the 20-year-old was quick to deflect the plaudits away from himself and onto his team-mates, particularly the bowlers.
Young team
"What has changed for Middlesex in Twenty20 cricket? We've got a young team this year and the young boys are looking to improve themselves which always helps," he said.
"There is a lot of energy and we've also got a good, mixed bowling attack. Dirk Nannes is a left-armer, Tim Murtagh swings it and Tyron Henderson is unbelievable at the death and just hits those right areas and we also have two good spinners.
"The attack saves us quite a lot of games and also gives us decent targets to go for. They deserve credit."
Middlesex's victory moves them a step closer to a place in the lucrative Champions League, with Malan admitting the players are trying hard not to get too carried away.
"It is our first Twenty20 finals day and most of the boys are talking about that, that they can't wait to get to the finals, but we don't look too far ahead," Malan said.
"We just look at the next game. With the Champions League, it is a massive incentive but we just look to the next game and if we win that, we will be happy with that."
Lightning struck
Lancashire skipper Stuart Law was full of praise for Malan's innings but always felt confident his side could chase down a target of 177.
But with their Twenty20 Cup campaign over the Lightning will now have to focus their efforts on the Pro40 League, as well as the LV County Championship.
"It was a tremendous display of hitting by Dawid but we still felt the total was gettable," Law said.
"Freddie was looking in good form and unfortunately hit a low full toss straight to backward square leg when it could have gone anywhere but let's take nothing away from Middlesex.
"We've just got to pick ourselves up and play good championship cricket and then the Pro40 League starts next week."