Shoaib repeats court vow
'Rawalpindi Express' reveals match-fixing offers
Last Updated: 02/04/08 4:51pm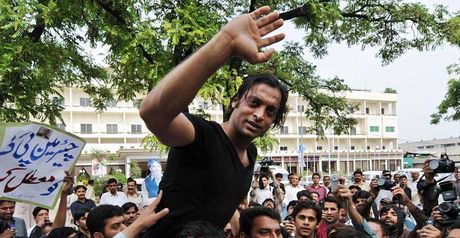 Shoaib: five-year ban
Shoaib Akhtar has re-iterated his vow to take the Pakistan Cricket Board to court if it rejects his appeal against a five-year ban.
"I have not done anything wrong, I haven't murdered anyone, then why such a harsh penalty?"
Shoaib Akhtar Quotes of the week
The troubled paceman was banned on Tuesday by the PCB on the recommendation of its disciplinary committee for repeated disciplinary violations.
"I will not go down without a fight. If the board rejects my appeal I will go to the High Court and Supreme Court to get justice," Shoaib told a press conference on Wednesday.
The ban was handed down while Shoaib, who has played in 46 Tests, was already under a two-year probation from the board, which has given him seven days to file an appeal.
"I will definitely be filing the appeal in the next two days and will follow the PCB procedure," Shoaib continued. "I feel I have been personally victimised by the board.
"If I have committed any violation of discipline I should be told about it."
Supporters of the 32-year-old were out in force in Islamabad when Shoaib arrived for the press conference.
Bearing banners and placards, they then lifted him on their shoulders when he re-emerged.
Shoaib, who has a history of run-ins with the cricket authorities, added his belief that the whole of Pakistan thinks he has been victimised.
He added: "I have not done anything wrong, I haven't murdered anyone, then why such a harsh penalty?"
Commitment
Speaking later on a talk show on Geo Television, Shoaib said his commitment to the Pakistan cause was evident in his refusal to take money to under-perform in matches in South Africa and India.
"This sort of ban has not been enforced anywhere on any cricketer," Shoaib said.
"Not even those players who were investigated on match-fixing allegations got this sort of ban.
"Players who betrayed their country escaped without such punishment. Why am I being victimised?
"I have rejected many offers in the past to under-perform. It happened in Johannesburg and in India but I never accepted them because I can't betray my country."
Shoaib added that he had every right to air his views on domestic cricket and central contracts - the outbursts which proved the final straw for the PCB.
He had criticised the board in January for his removal from the list of centrally contracted cricketers.
"They drop me from the contracts list. They force me to play on pitches on which batsman scores 300 in a day and yet one can't even complain," he added.