Habana's respect for Wilko
Springbok winger hails England No.10 as one of rugby' greats
By Tony Curtis. Last Updated: 19/02/08 5:03pm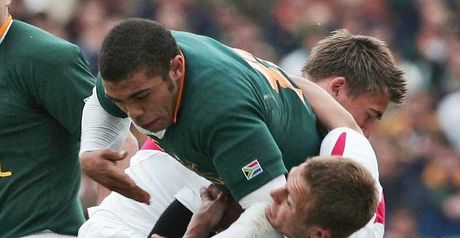 No way through: Bryan Habana is tackled by Jonny Wilkinson
World Cup-winner Bryan Habana has hailed Jonny Wilkinson as "one of the best players" to play rugby union.
Wilkinson currently finds his place in the England team under increasing threat from the likes of Danny Cipriani, Ryan Lamb, Charlie Hodgson and Shane Geraghty.
However Habana, the star performer as the Boks lifted the Webb Ellis trophy in 2007, has insisted that Wilkinson is still the man that the opposition fear.
He said: "Playing against Jonny is the most difficult task. The way he picks up an English team is unbelievable - I don't even think Dan Carter can do that for New Zealand.
"I have the most utmost respect, not only for him as a player. It is sad to see someone like Jason Robinson hang up his boots but then again Jonny is probably the only Englishman that can change a side.
"He is probably one of the best players that has graced the game of rugby and hopefully he will be able to gracing it for the next couple of years.
Respect
"He has proved in the last couple of years he is probably one of the best the game has ever seen and you, as an opposition player, have to respect that fact.
"He is probably one of the most perfect people off the field."
Habana and Wilkinson are likely to go head-to-head next year when the British and Irish Lions head to South Africa.
And although the Boks are determined to erase the memories of their 1997 defeat to the tourists, Habana has no qualms about facing Wilkinson.
"Jonny first came on to the scene when we lost the tour in 1997 so in ways we are hoping he is not there," said Habana.
"He is a very influential player.
"There are so many guys for vying that number 10 spot in England, it will really cause some stiff competition which will not bode well for us.
"But if Jonny is kicking and if he is on top of game there few rugby players that can match him in terms of talent.
"It will be good to have the best there and if Jonny is the best come 2009 then you definitely want to be coming up against the best in the world."