Sehwag - Aussies are scared
Hayden hundred the highlight on day of attrition in Adelaide
Last Updated: 26/01/08 2:49pm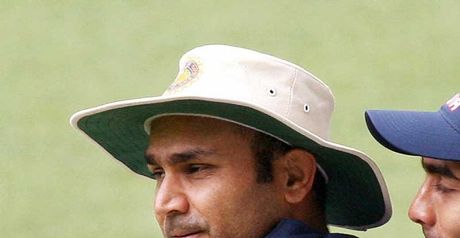 Sehwag: Critical
Virender Sehwag believes Australia's slow run-rate on day three of the fourth Test against India is a sign that they are scared of losing.
"Last time we came here they scored 400 in a day. I think they're scared about defeat."
Virender Sehwag Quotes of the week
The home side reached 322-3 by the close at the Adelaide Oval, leaving them still 204 runs behind India's mammoth first innings total of 526.
Matthew Hayden scored a hundred as the Australians scored 260 runs in the day, losing just three wickets in the process.
By their own lofty standards the scoring rate was slow, something Sehwag puts down to the fact that they are concerned about letting their 2-1 series lead slip away.
Defensive
"I think they're not going to win so they are scared and playing very defensive," the opening batsman said.
"Last time we came here they scored 400 in a day. I think they're scared about defeat.
"On a flat track they scored 260 in a day and lost three wickets so there must be something wrong in their batting lineup, or maybe something wrong in their thinking.
"We're working hard on our bowling and fielding but if someone's playing defensive we can't help it.
"We are just in a positive frame of mind and we want a result, it doesn't matter whether we win or lose."
Negative
Hayden hit back by claiming Australia's scoring rate was lower than usual due to India's neagtive tactics in the field.
The left-hander led the way for the hosts with 103, becoming just the sixth player to ever hit 30 Test centuries in the process.
"I think it is purely a response to the way India decided to bowl," he said.
"I didn't feel particularly threatened by the way they bowled, with ring fielders and often 7-2 fields that is what they had planned today.
"They have very wide tactics and that was indicated by the fact they didn't want to take the new ball."
Singh injured
Meanwhile, RP Singh will not bowl again in the match due to a hamstring strain suffered on the second day.
The left-arm seamer sustained the problem after bowling just four overs on Friday evening and faces a minimum of two weeks on the sidelines.
That means he is likely to miss the early games in the triangular one-day series that starts on February 3.
"He has a small hamstring tear and will not be in action for at least the next two weeks," said a team spokesman.