Caddick confident on fitness
Veteran hopes back surgery will extend his career for three years.
Last Updated: 03/01/08 4:16pm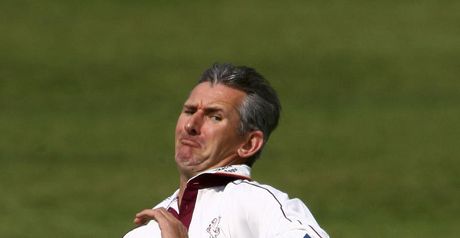 Caddick: Fitness hope
Veteran Somerset seamer Andy Caddick is confident of being fit for the start of the new County Championship season despite undergoing back surgery.
The 39-year-old needed to go under the knife to cure a thoracic spinal disc problem on Christmas Eve, but he is confident the procedure will help extend his career.
Despite his advancing years, Caddick was the star of the show with the ball for Somerset as he helped fire them back into Division One of the County Championship.
After positive reports from his surgeon, Caddick now hopes he can open the bowling for Somerset in their first match back in the top flight in April.
"I am very confident that I will be back to full fitness and ready to play in the opening Championship match of the season," Caddick said on Somerset's website.
"I am really looking forward to opening the bowling for Somerset in 2008."
Extended career
Caddick took 75 wickets for Somerset last season and there were even calls for an England return as he continued to shine.
After such a display last year, Caddick says the operation will enable him to extend his career for up to a further three years.
"The operation that I have just undergone during which they fused three discs in my back was to make bowling pain free for me," Caddick added.
"Which will enable me to extend my career and play for another two or three seasons, which is what I want to do."
Director of cricket Brian Rose said that Caddick will be starting his rehabilitation after a couple of weeks of rest, in a bid to be fit for the start of the season.
"I have spoken to Andy and he is very happy with the way the procedure has gone," said Rose.
"He will spend a couple of weeks resting and then commence a rehabilitation programme and training schedule.
"From my contact with Andy I am fully confident that he will be fit and ready to go at the start of April."