Panesar staying positive
England spinner insists he will learn from Sri Lanka experience.
Last Updated: 24/12/07 10:41am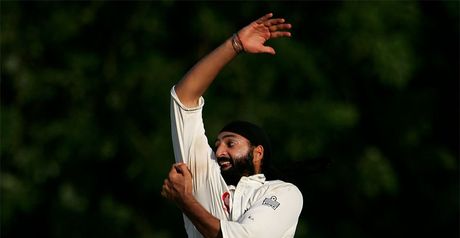 Panesar: Learning curve
England spinner Monty Panesar insists his disappointing tour to Sri Lanka will only help his long-term career.
Panesar was expected to perform well on the helpful Sri Lankan wickets, but managed to take just eight wickets in three Tests as England lost the series 1-0.
The Northants left-armer has been criticised by some for his ineffective performance and there are doubts about whether he can get his career back on track.
However, the upbeat 25-year-old insists he is looking on the Sri Lanka experience as a positive one and has vowed to come back stronger in New Zealand in January.
"There has been a lot of focus on my bowling in this series but let me tell you straight away that I am looking at the whole experience in a very positive way as I head home to reflect and rest before we go to New Zealand at the end of January," Panesar told the Daily Mail.
Experience
Panesar insists he is keen to play in unhelpful conditions to see how far he has come.
"I want to experience tough conditions and I want to bowl a lot of overs at high-class players of spin in their own country, to test myself against them and see where I am at in my career. That is what has happened to me here."
"I may not have taken as many wickets as I would have liked but I see this tour as a crucial part of my learning curve.
"I needed the examination of my progress that this tour has brought.
"There have been times here in Sri Lanka when I have beaten the bat, taken a few edges which have not quite gone to hand and caused problems by bowling into the rough from over the wicket.
"So it has not been all bad."