Moores plans for Murali
England plan for Murali, Prior number one keeper.
By Paul Higham. Last Updated: 09/11/07 8:09am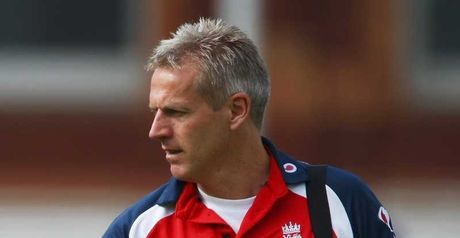 Moores: Murali plan
England coach Peter Moores admits Muttiah Muralitharan will be a huge danger during the upcoming Test series in Sri Lanka, and says his batsmen must know exactly how they are going to play him.
Sri Lanka's mesmerising off-spinner could be the world's leading Test wicket-taker by the time England visit Sri Lanka if he gets the required success on the tour of Australia.
Either way though, Murali has been a constant thorn in England's side with 93 wickets in just 13 Tests against the Three Lions, at an average of 19.74.
England have coughed up 45 of those wickets on Sri Lankan soil and the last tour saw 26 fall victim to his conjuring off-spin.
Moores does not want a repeat of Murali plundering England's batting, and says his side is working on a plan to combat his magic on home soil, although he insists they are focused on the Sri Lanka team as a whole.
"The balance has got to be right how you talk about Murali and how you are going to play him - but he is obviously a key man in their side," said Moores.
"But you can't talk about Murali in isolation, because they have got a lot of fine players - batters and bowlers.
"We saw in the one-day series they are skilful in those conditions.
"But Murali obviously is a key player, and people have to be clear how they are going to play him."
Prior gets the gloves
Moores confirmed that Matt Prior will go as number one wicketkeeper, with Phil Mustard providing a challenge to his place.
Prior has come under fire for his keeping and his raucous demeanour behind the stumps, but Moores is standing by his man for now.
"Matt's got possession of a Test match place," Moores added.
"A lot's been said about Matt - but you can't get away from the fact he has played seven Tests and averages just under 40.
"Keeping-wise, he went through a bit of a journey - but with the pressures on him, he finished well keeping in the one-day series (against India in August-September).
"He will go as favourite to keep his place, and we think for Phil Mustard it is a great opportunity for us to have a look at him and see where he can get to."
Panesar praise
England will be relying on their spinners to also do some damage, with Graeme Swann included alongside the mercurial Monty Panesar.
Moores expects Panesar to thrive in the Sri Lankan conditions, and believe he will get back to his best after not getting many chances during the one-day series.
"I expect Monty Panesar to carry on with what he's been doing," Moores added.
"He bowled very well against the West Indies and India - and at the moment he is taking his Test wickets at 30, which is very good for a finger spinner.
"I expect him to enjoy bowling out there. I think it was quite frustrating in the one-day stuff - he didn't get much opportunity but he'll be looking forward to the tour."