Dhoni: Twenty20 is the future
India's triumph set to prompt explosion of interest
Last Updated: 25/09/07 9:20am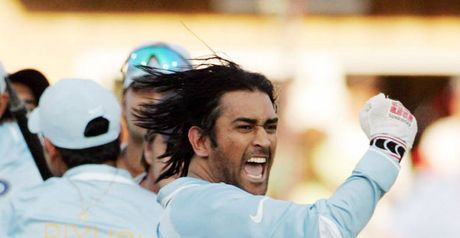 Mahendra Singh Dhoni believes India's World Twenty20 triumph can establish the format on the sub-continent.
Dhoni led his side to a thrilling five-run victory against Pakistan in the final of the inaugural global event on Monday, and predicts a bright future for the shortest format of the international game.
"It will catch on in India because they love fours and sixes and excitement," said Dhoni.
"There hasn't been that much of Twenty20 cricket in India so far.
"We've had a domestic circuit but not many people come to watch the domestic matches, but I'm sure it will catch up and be huge in India after this."
Enjoyment
India opted to select a youthful squad for the two-week event in South Africa, with experienced Test regulars Rahul Dravid, Sachin Tendulkar and Sourav Ganguly all left at home.
Under Dhoni's guidance they produced a series of superb performances, culminating in the final victory against Pakistan during which they defended a total of 157-5.
"We also enjoyed this format of the game because nothing much was expected from us so we didn't have added pressure or added responsibility on anyone - the guys really enjoyed it and played it match by match," added Dhoni.
"Enjoying cricket is very important and that's what the side is doing. We have confidence in each other, we were backing in each other and they were enjoying each other's performance.
"If I made a 50, the whole team would be pleased and that's what we were doing in the dressing room. The way the boys have responded throughout the tournament was really pleasing. I never had too much trouble leading the team."