Tom Maynard tributes
Stars pay tribute to tragic Surrey youngster
Last Updated: 22/06/12 4:58pm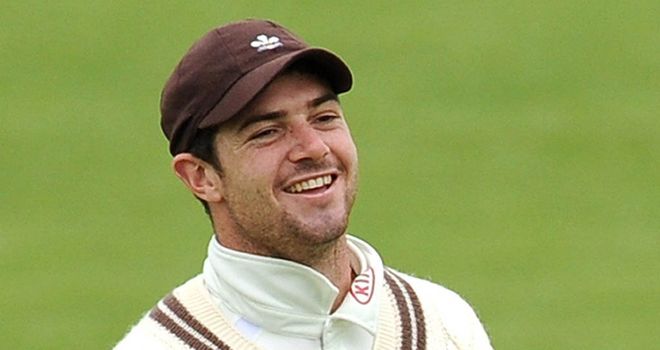 TOM Maynard: Died in the early hours of Monday morning aged just 23
Tributes have flooded in for Tom Maynard following news of the Surrey and England Lions batsman's tragic death.
Maynard died after being struck by a London Underground train at Wimbledon Park station in the early hours of Monday morning.
The 23-year-old, who was called up to the England Performance squad last winter, played for Surrey in their Friends Life t20 match against Kent on Sunday.
Leading figures from the world of cricket and the wider sporting community took to Twitter to pay tribute to Maynard following the shock news of his passing.
Kevin Pietersen: So unbelievably sad!! The Maynard family is so special!! Thoughts are with this special family!! Loads of love guys!! KP xxx #RIPTom
Michael Vaughan: Thoughts are with Matt Maynard and his family.. Words can't describe the Terribly sad news that Tom Maynard has died aged 23... #RIPTOM
Someone with so much talent and so much to luck forward too...Why is live so cruel sometimes...?? #RIPTomMaynard
Andrew Flintoff: tragic news that a great lad , Tom Maynard is no longer with us . All my thoughts are with his family at this awful time x x
Alec Stewart: We've sadly lost a lovely lad who had the talent to be something very special. My thoughts go out to the Maynard Family. RIP Tom
Tim Bresnan: Was gutted to hear the news of Tom Maynard here at the oval this morning A talented player is lost so young Thoughts with his family #RIPTom
Stuart Broad: Absolutely gutted this morning to hear the news about Tom Maynard. A lovely guy and great talent. #RIPTom
Graeme Swann: Devastating news today about Tom Maynard. Hell of a player and a great bloke too. #ripmate
Matt Prior: In shock at the news of Tom Maynard! Such a waste of a very talented and much loved player. Condolences to the Maynard family #RIPtommaynard
Graham Onions: Words can't describe how sad I am hearing the news about Tom Maynard,my thoughts are with his family and friends #RIPTom
Steven Finn: So sad to hear the news of Tom Maynard. Thought with family and friends. Very talented and a top guy. #tooyoung
Matthew Hoggard: Can't believe the news about Tom Maynard !!!! Life can be so cruel! Thoughts go out to his family!! Top bloke much talent! R.I.P
Paul Collingwood: The world has lost a true character that loved life and a hugely talented cricketer. My thoughts go out to the Maynard family. RIP Tom.
Jason Roy: Cant believe im writing this. R.I.P Tom Maynard,one of my best friends.You will always be in my heart and will miss you so so much.
Monty Panesar: RIP Tom Maynard. Terrible news. Can't describe how I feel. Amazing talent #RIPTM
Darren Sammy: Very sad to hear that Surrey cricketer Tom Maynard has died at age 23. The West Indies team's thoughts and prayers go out to his family :(
Steve James: The lovely kid who was always in our Glamorgan dressing room grew into a man who would have played for England. How can he be gone so soon?
Sam Warburton: Thoughts are with the family of Tom Maynard. Great cricketer, sportsperson and guy.
Jamie Roberts: Tragic news re. Tom Maynards death..played cricket against and with him as a kid growing up..fantastic player and great bloke..so sad :(
Joe Calzaghe: Really Sad to hear the news Cricketer Tom Maynard has died, only 23. # R.I.P Tom Maynard
Leave your tributes to Tom by using the feedback form at the bottom of the page.