The best of the Test!
Get in the thick of the action this summer with Sky Sports
By Oli Burley - @SkySportsOli. Last Updated: 16/05/12 12:24pm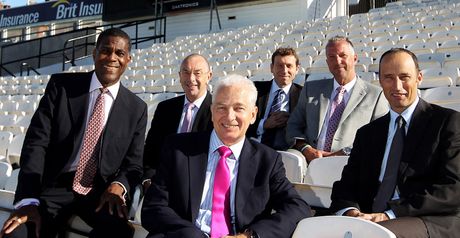 Join Mikey, Bumble, David, Athers, Beefy and Nass for a cracking summer!
Follow England like never before on skysports.com this summer!
For the first time we're teaming up with Athers, Beefy and all the boys in the commentary box to bring you a live, interactive blog that will take you to the heart of every day of international action.
What's more, we want you to be part of the team as Andrew Strauss' men take on West Indies, Australia and South Africa in a jam-packed international season.
LIVE ON SKY SPORTS
England v West Indies, First Test
10am, Thu, Sky Sports 1 HD
Watch on the move with
Sky Go
How to
remote record
Here's the deal: from 0930 this Thursday we'll bring you the very best match-day colour and comment, including unique behind-the-scenes content from our esteemed commentary team.
All you have to do is join the debate - either by getting involved on skysports.com or by Tweeting your view on all things cricket @SkyCricket.
This is your chance to interact with former England captains Sir Ian Botham, Nasser Hussain, David Gower and Michael Atherton - not to mention West Indies legend Mikey Holding, the marvel that is David 'Bumble' Lloyd and former England openers Ian Ward and Nick Knight.
If you can't be at the ground, it's the next best thing!
It's all part of our comprehensive coverage of England's international campaign here on skysports.com.
As ever we'll deliver ball-by-ball commentary, session reports and the very best reaction around - not to mention exclusive polls, extensive photo galleries and online highlights post-stumps.
In addition, if you are a Sky TV customer you can stay up-to-date with live streaming of all the action across a range of devices including laptops, computers, tablet and mobile devices - on the move and free of charge.