Ramps' record Mark
Veteran batsman determined to help Surrey avoid drop to Division Two
By Rob Lancaster. Last Updated: 06/08/08 3:16pm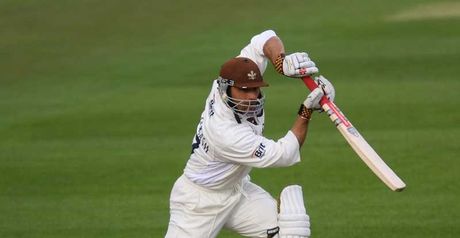 Ramprakash: Joined a select group of cricketing legends
They say the best things come to those who wait. After finally joining a select band to make a century of centuries, Mark Ramprakash would certainly agree.
Mark Ramprakash factifle:
1969: Born at Bushey, Hertfordshire.
1987: Makes Middlesex debut.1989: Scores first first-class century against Yorkshire at Headingley.
1991: Makes Test debut in England's home series against West Indies.
1997: Appointed Middlesex captain.
1998: Scores maiden Test century, 154, against West Indies at Bridgetown.
2001: Moves to Surrey; Scores first Test century in England, 133 against Australia at The Oval.
2002: Wins last of his 52 Test caps during indifferent tour of New Zealand.
2003: Century against former club Middlesex makes him first player to have scored a ton against all 18 first-class counties.
2006: Scores 2,278 first-class runs, including a career best 301 not out, and averages more than 100 during his 20th county season.
2007: Scores 2,026 runs at 101.3 to become first batsman to average more than 100 in consecutive English seasons; Wisden Cricketer of the Year.
2008: August 2 - Scores 100th first-class century against Yorkshire at Headingley.
" I have a year left on my contract and I fully intend to see that out. Sooner or later the day will roll on when I have to get a proper job"
Mark Ramprakash Quotes of the week
The Surrey batsman had been stuck on 99 first-class tons since May before finally becoming 25th player to achieve the impressive feat, hitting an unbeaten 112 against Yorkshire at Headingley.
An untapped talent at international level, he made just two of his hundreds in 52 Test appearances for England, the 38-year-old has been a destroyer of county attacks since making his debut back in 1987.
Speaking to Sky Sports News, Ramprakash admitted he had yet to come to terms over what he had achieved in joining a list of cricketing greats which includes several of his boyhood heroes.
Lucky
"I'm very, very happy. It hasn't really sunk in," he said. "When I look at the list of people who achieved it, there are some great players in there.
"I was lucky enough to play alongside Graham Gooch and against Sir Vivian Richards. These guys were my childhood heroes so to be in the same club as them...I feel very privileged."
Ramprakash started the summer on 97 hundreds and soon added to his collection with big scores against Sussex and Lancashire in the LV County Championship.
However, he has had to bide his time to reach 100, something he puts down to the high standards in Division One, some good balls and the Twenty20 Cup.
"Some good deliveries were involved, and also inevitably with cricket you have periods where you score two or three hundreds in a row and then equally you can go two or three matches without even getting close," he said when asked about his recent lean spell.
"This year I have been very impressed with the standard of Division One. It's very strong. There are some good teams out there who are able to sustain the pressure on batsmen very well.
"The balance between bat and ball this season has been a lot more even, so all those things combined have made it quite tough.
"But I knew if I stuck to what I knew, prepare well, work hard and stick to the method that has faired me so well in recent years, it would come."
Future
So what next for the run machine? Well for starters the right-hander is looking to finish the campaign with a flourish to try and help Surrey stave off the threat of relegation in the four-day arena.
He has turned his hand, or more importantly his feet, to the dancefloor, winning the celebrity show Strictly Come Dancing in 2006.
But for now Ramprakash is only interested in spending more time at the crease with another year left on his current deal at The Brit Oval.
"The biggest buzz for me is batting well and doing it for the team," he added.
"Surrey have six big four-day games left this year and if we can win a couple we can maintain our Division One status.
"More long-term, I have a year left on my contract and I fully intend to see that out. Sooner or later the day will roll on when I have to get a proper job."