Sir Richard Hadlee urges England's selectors to back beleaguered captain Alastair Cook
Last Updated: 22/07/14 1:57pm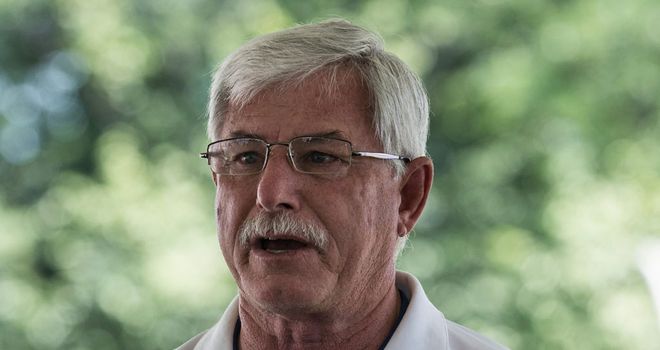 Richard Hadlee: Backs Alastair Cook to come good as England captain
Cricket Betting

Cricket Betting

Bet with Sky Bet
Sir Richard Hadlee has urged England to stick with captain Alastair Cook for the remainder of the Test series against India.
Hadlee believes any decision by the selectors to relieve Cook of his duties would be a kneejerk reaction following India's victory at Lord's on Monday.
Speaking to Sky Sports News, he said: "Twelve months ago, everyone would have said he's a fine captain and a wonderful batsman for England.
"Clearly he's going through a bit of a trough as all players do. I just hope the England selectors have given him confidence and say to him 'you're going to be captain for next three games as you're a good enough player to turn your form around'.
"I suspect by time Alastair Cook ends his career, he'll probably be England's most successful ever captain, the leading run scorer in the history of English cricket and the most Test centuries for an England player. I expect he'll turn it around with full support and everyone backing him.
"Unless you have a capable captain to take over, why would you make a change? Personally, I would persevere with the status quo at the moment, back him and let's hope he can turn that form around in the next three games."
The 63-year-old did however question the tactics of the England bowlers, whose short pitched bowling was annihilated by the Indian tail-enders in the second innings.   
"For me, persistent short bowling is just a free shot for the batsman. If quality bowlers like Broad and Anderson cannot pitch the ball up, swing it, seam it and get those batsmen out genuinely, then there is something wrong with the tactical approach at the moment."
Weary
"Maybe they are a little bit weary on not on song, but they have to be managed, get focused and get it right, otherwise India will take this series," he continued.
And while India destroyed England's short bowling, the home side's batsmen capitulated after lunch on Monday when chasing the game against the similar short tactic, something which Hadlee was surprised about.
"That was a real contradiction, but of course it was Ishant Sharma that really tested the England batsman. I think at times Sharma was a bit surprised that he was having so much success with the short pitched ball and the wickets he got with all those pull shots.
"I think England are a competitive side. Clearly a couple years ago they were right up there as probably the No 1 Test team in the world.
"England will be good enough in time to turn that around, but clearly they have to score more runs and the bowlers have to be more accurate and disciplined in the way they bowl. Unless they do these two things, they are going to struggle." 
Watch England take on India in the third Test at Southampton from 10am on Sky Sports 2 this Sunday.