Best bet
Sky Bet punters take shot on skysports.com readers' best options
Last Updated: August 17, 2012 7:06pm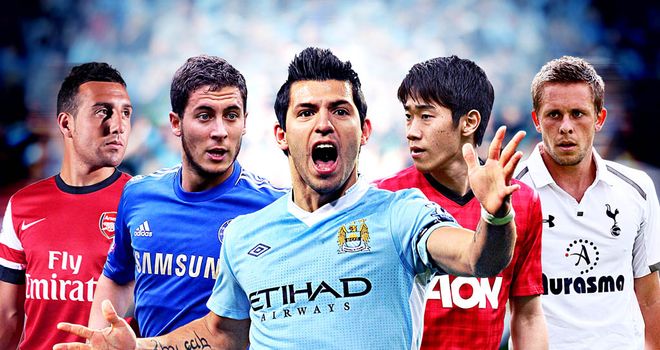 Request a bet: Sky Bet asked for suggestions from skysports.com readers
Skysports.com readers have submitted their best markets and must now wait for the jury of Sky Bet punters to decide who is the best bookie.
The online bookmaker have shortlisted their favourite 'What If...' markets suggested via skysports.com and Twitter and are now taking bets, with the one which attracts the most money earning its creator £500.
More than 1,000 ideas were put forward, from 'What If...Van Persie fails his medical due to a back injury from carrying Arsenal' to 'What if...Liverpool concede a hat-trick of goals via inflatable objects'.
Sky Bet's Football Traders have priced up the more realistic ones, with 15 suggestions now available on site along with their abundance of Premier League specials.
You can help decide which is the best bet by backing you favourite market via the links below.
What If ... Mario is mad?
Balotelli to get more cards than goals (Premier League 12/13) - 6/4
What If ... he is a hat-trick hero?
Robin Van Persie score his first Manchester United hat-trick v Arsenal - 66/1
What If ... the big guns fail to fire?
Rooney, Aguero or Torres do not score in the first three rounds of Premier League games - 12/1
What If ... it is goal crazy?
Any team score 100+ Premier League goals - 9/1
What If ... it is too close for comfort?
The Premier League title decided on goal difference - 8/1
What if...they reach double figures?
Any team to score 10 or more goals in one Premier League game - 40/1
What If ... London's calling?
London win more trophies than Manchester (Only Premier League, FA Cup, League Cup, Champs League & Europa League) - 4/1
What If ... everyone is safe?
No Premier League manager gets sacked - 40/1
What If ... it is a century?
Any Premier League side to gain 100+ points - 25/1
What If ... it is a great escape?
The team that is bottom of Premier League at Christmas stays up - 5/1
What if...they find it easy?
A newly promoted team qualifies for Europe through league position or cup? - 4/1
What If ... they are invincible?
Any team goes unbeaten in the Premier League - 14/1
What if...it is home sweet home?
Manchester City win every home Premier League game - 40/1
What if...it is a final day repeat?
The Premier League title is decided on the final day of the season - 7/4
What If ... he returns to haunt them?
Robin Van Persie scores in both league games v Arsenal - 5/1
Want to get your own market on Sky Bet? Follow them on Twitter for the next #RequestABet.