Poyet praise for Brighton
Zola felt Watford deserved more from referee
Last Updated: September 18, 2012 11:16pm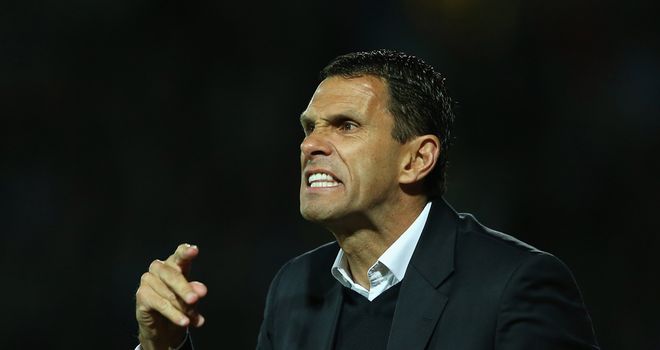 Gus Poyet: Saluted his side followed their narrow victory away to Watford
Gus Poyet praised Brighton's character after they battled to a hard-fought win at Watford, while Gianfranco Zola felt his side deserved more.
Craig Mackail-Smith's penalty four minutes into the second half - his sixth goal in four games - was enough to fire the Seagulls to their fourth straight victory and keep them third in the Championship.
The Brighton manager said: "It was a very difficult one, there were so many things that happened in the game, so at the end you think we really battled to get a result. Credit to the players."
Asked if the victory could be looked upon in an even more significant light later in the season, Poyet responded: "Probably because Watford needed to win today and they started really brightly, they had a few shots from long distance.
"I remember a deflected shot that on another day would have gone in - and then the whole game would have changed," he said of Fernando Forestieri's early strike that flew narrowly wide off Adam El-Abd.
Urgency
He continued: "The last 20, 25 minutes of the first half it was all us; we had very good chances that we didn't convert.
"At half-time I thought it was going to be one of those days where we're not going to score but then the penalty changed the game.
"It gave that little bit of urgency to Watford and they started committing forward and we needed to defend.
"We had a few breaks but if you look at the players, how they are, how they feel, the pains and the aches will show you it was a very difficult game."
Brighton had the chances to win by a wider margin but by Forestieri hit the bar and Watford had numerous other shots as well as two good penalty appeals turned down when Jonathan Hogg and Nathaniel Chalobah were felled in the area.
Disappointed
Head coach Zola, who played alongside Poyet at Chelsea, said: "The [Brighton] penalty was a penalty, I will have to see.
"But after that it's been one after another chance and, honestly, if that was a penalty for Brighton at least one of the ones for us was a penalty too.
"I'm very disappointed because the referee is there, he saw it and he didn't give and it's such a disappointment because my players deserved something more from that and they gave everything until the end.
"We are fighting against the odds, difficulties - but we are going to make a good team out of this team, I promise."
While Watford had the better of the territory and exchanges over the 90 minutes, they struggled to create many clear-cut chances.
Zola acknowledged: "We know that the last bit is not quite there for the moment but believe me in football that is the most difficult bit.
"But we are trying very hard and we are going to get it working, don't worry about. We'll sort it out."