Coyle - No Davies offers
Bolton boss also confident of keeping Bogdan and Lee
Last Updated: 05/07/12 2:40pm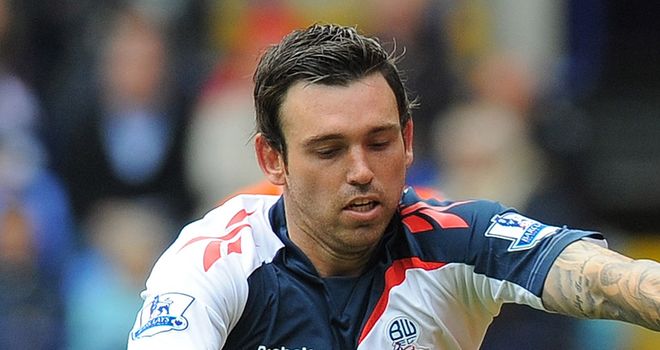 Mark Davies: Linked with a move elsewhere but Owen Coyle says he will stay at Bolton
Owen Coyle says there have been no approaches for Mark Davies and has warned potential suitors that he will fight to keep all his star players.
Davies' future has been the subject of speculation in recent days after reports linked him with a move to Liverpool.
However, Coyle insists the 24-year-old midfielder is among a core group of young players he hopes to build his new Trotters squad around.
Coyle is determined to secure an immediate return to the Premier League and is confident the likes of Davies, Adam Bogdan and Lee Chung-yong will stay at the club.
"I'm an open book, I've always told you from day one if there's been any interest in my players, whether it be Gary Cahill or any other," said the Scot in reference to the England centre-back who left the Reebok Stadium for Chelsea in January.
"I can tell you there's been absolutely no phone calls, no dialogue, nothing about Mark Davies.
"It's the usual paper speculation and conjecture.
"If anybody out there thinks any of our players will be leaving on a whim then they're sadly mistaken.
"Since I came in and inherited that squad, when they were second-bottom of the league and everything else, we've had to patch things up year-by-year because there were players who were on long-term contracts and big money that we couldn't move on.
Nucleus
"We've now got young players that we've tied up on long-term contracts because that's the future of the club. That'll move us on and take us back to the Premier League, I believe.
"Mark Davies, Adam Bogdan and Lee Chung-yong - these are all lads that I've tied up on long-term contracts and we did that because we want them at the football club, to be the nucleus of the team that drives us forward.
"So I can assure you, as far as I'm concerned and the chairman and the owner know my feelings, those players are scheduled to be with us for next season and are looking to get back to the Premier League."
Nigel Reo-Coker and veteran goalkeeper Jussi Jaaskelainen stand as the Trotters' main departures so far this summer, and Coyle has been buoyed by the captures of centre-back Matt Mills and Republic of Ireland midfielder Keith Andrews from Leicester and West Brom respectively.
"Both players, as you can imagine, were being chased by various clubs all over the country and, indeed, out of England as well," he added. "There was huge interest in them.
"Keith has loads of international experience as we've seen in the European Championship. As much as Ireland had a difficult time, he actually acquitted himself very well."