Manchester's Globetrotters
Man City FanZoner Danny Jackson can't help but worry about his club's new found millions. If only we all had such worries!
Last Updated: 10/09/08 5:06pm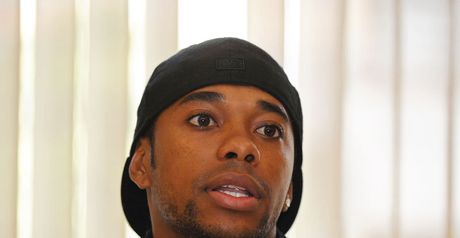 Robinho arrives, but would City fans still prefer Sturridge?
Well there was a week to remember, even though as a Man City fan we're used to more ups and downs than a season ticket holder on the Big One, this week has got to take the biscuit.
"'We are Manchester's club and the club of the people renowned for our passion and sense of humour, this is our identity and who we are, do we really want to lose it? " Quotes of the week
Waking up ahead of the West Ham game, the season so far had been 'typical Man City' Lost away at Villa beaten at home in Europe against FC Mitchanobodies, the prospect of selling our best players due to being skint and an owner with more bounty's on his head than Billy the kid.
Since then our footballing world has been turned upside down and not just off the pitch, the performance against West Ham was full of guile, creativity and real passion with the resulting 3-0 score line not flattering us in any way shape or form, the game in Denmark was a different story but for once we got the rub of the green and scrapped through on penalties then to complete an excellent 7 days we put on a masterful performance in the North East against Sunderland running away comfortable 3-0 winners . . . . Happy days !
New faces and fortunes
But the events off the pitch have been unbelievable. First of all we bring home Shaun Wright-Phillips, our long lost son returned with more experience than he left with and around £12m profit thrown in for good measure add to that the signings of 2 young and extremely talented internationals Vincent Kompany and Pablo Zabaleta all of a sudden we look like a team who could comfortably finish in the top 6. Then mayhem !!
Super Frank with £800m of his money confiscated was struggling to give the club that backing it deserved and brought in some new investors..... and then some! Abu Dhabi United (I think the last bit will have to go) fronted by the Arabian Alan Sugar, Dr Sulaiman Al-Fahim purchased us for around £200m which by all accounts is pocket change to the multi-billionaire consortium consisting of Oil tycoons and Abu Dhabi royalty with the promise of turning Man City into THE biggest club in world football.
He didn't waste much time in putting his money where his mouth is and minutes before the transfer deadline we complete the signing of the mega-star Robinho for around £32.5m with a guarantee of more to come. Within in minutes of this announcement Middle-Eastlands was awash with tee-towel bearing Mancunians pay homage to our new owners and new found wealth (I hope these guys have a sense of humour!)
Surreal times ahead
Now being a City fan from the day I was born and not seeing us win a sausage in that 33 years the thought of having the kind of players I have only seen wearing a City shirt whilst playing Championship Manager on the Playstation is completely surreal and just a little bit exciting!
However once the dust settled I found myself having a funny feeling in very very very bottom of my stomach. Now don't get me wrong I'd rather have the investment than not but the worry I have is that we could become a bit of a side-show and the Manchester version of the Harlem Globetrotters. With the money Dr Al-Fahim is said to be looking to spend we could become a team of super-rich mega-stars, but is that who we are?
We are Manchester's club and the club of the people renowned for our passion and sense of humour, this is our identity and who we are, do we really want to lose it? We have an unbelievable youth academy which consistently produces excellent players many of which are in the first team squad today, what will happen to them or indeed the academy itself?
I know I have developed my character from the up's and downs of being a City fan and I can't imagine the amount of times I have said to people "it's easy being a United fan" due to the success they have so do we really want a club where you won't be able to move for Over-Inflated Ego's, Over-sized wallets and interpreters? I'm not convinced there again it is going to be one exciting ride and look on the bright side ........ we could be Newcastle