Little Wigan growing up fast
Last Updated: 20/08/08 5:23pm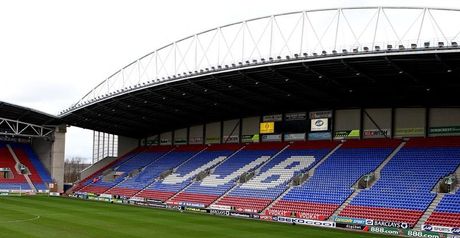 The crowds are coming to the JJB....slowly!
Despite their opening day defeat at West Ham, Wigan FanZoner Mike Roby thinks that the only way is up for Brucey's boys...even if the same can't be said of the attendances at the JJB
"'Our aim this year has to be a top half finish with one eye (dare I say it) on a European spot. " Quotes of the week
After what can only be described as the longest summer ever the season is finally here! With England not qualifying for the Euros due to Steve Mclaren being a brolly or should I say Wally? The Euros supplied little entertainment in fact it was painful to watch! Alas the season is here and along with it comes the fans usual unrealistic optimism.
From the terraces
Firstly, I would like to kick off with a response to the ongoing criticism regarding our home attendances at the JJB Stadium. Sometimes I think people live in a wonderland when they think a team such as Wigan Athletic that entered the Football League in 1978 and are surrounded by six Premiership clubs (and a bunch of egg chasers) can produce sell out crowds week in week out!
In the 1994/95 season our average attendance was 1,748 (one thousand seven hundred and forty eight as they write on the vide printer when you read something they think can't be true).
In our opening season in the Premiership which was the 2005/06 campaign our average attendance was 20,610, that is almost a 1,200 (twelve hundred) percentage increase. Please tell me another club which has grown with such speed and consistency to a level which far exceeds our initial growth pattern? I'm sure the great response will be "glory hunters" or they have jumped on the "band wagon".
I'm sure the Man Utd's and Liverpool's of this world once had attendances which grew as the success of the team did and I would love to see how many bums they would have on seats if they were in the Championship! Wigan is a growing club and has grown faster than anyone could have expected! We are Little Wigan and we like it that way!
This season
We entered this campaign with the best pre season since we first got promoted to the Premiership. We have managed to keep hold of our best player such as Palacios, Valencia, Scharner, Heskey and Kirkland who are key to our success this season.
Every year since we were promoted we have either lost players or our manager when Paul Jewell left. Our aim this year has to be a top-half finish with one eye (dare I say it) on a European spot. I will however take fourth from bottom now, but I'm very confident this Wigan side is much better than that.
Long-term goal
I would like to think Steve Bruce is here for the long term but after his last short spell at Wigan it's hard to forget how easily he walked away. The circumstances surrounding that were very different and this time we are in the Premiership and more importantly he has money to spend.
If Bruce does stay then he's certainly got his work cut out keeping our better players. Paul Jewell had this problem with us losing Jason Roberts and Jimmy Bullard and these players are not replaced overnight! If we can finish top half this year then this may give our top players the confidence to stay as we are moving in the right direction.
One attribute Bruce does bring to the role is the connections he has throughout the game that will allow him to bring in quality players. Birmingham were crazy to let him go and Bruce must be rubbing his hands together in the prospect of building his team and having the support from Dave Whelan in doing this.
Bruce has strengthened in most departments with Cattermole coming in at the back from Middlesbrough, Kapo and De Ridder have come in from Birmingham im midfield and Zaki up front on a season long loan from El Zamalek.
With additions of this quality along with the quality already in our side we must aim high and go for a European spot within the next two years. Come on you Latics, let's have a great season and maybe even a cup run as we're certainly due one!
We will, however, need lady luck this season so fingers crossed she's with us all the way!