Dabo - Barton is a coward
Frenchman hits out at former City team-mate and Newcastle
Last Updated: 03/07/08 7:34am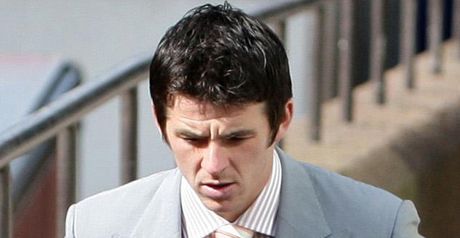 Barton: Dabo criticism
Ousmane Dabo has labelled Joey Barton a 'coward' and criticised Newcastle United for lacking 'ethics and morals'.
On Tuesday, Barton escaped a second term in prison when he received a four-month prison sentence, suspended for two years, after admitting assault occasioning actual bodily harm on former Manchester City team-mate Dabo.
The 25-year-old was due to go on trial at Manchester Minshull Crown Court on Monday, but changed his plea shortly before the scheduled start.
And Dabo, currently contracted to Serie A side Lazio, has stated that he is content with the outcome of the trial.
A terrible day
The 31-year-old said: "I almost lost an eye. It was a terrible day and although I was not traumatised, I wanted the trial to come round.
"There was no confrontation, as Barton pleaded guilty straight away, and I did not need to give evidence. That says a lot about me - it shows that my version of the truth is the truth. I am happy with the outcome.
"He admits he behaved in a cowardly way, and he is a coward. We met one another on Monday. He was in one corner and me in another. He did not talk to me or apologise, but it did not trouble me to see him again."
Dabo went on to criticise Barton's club Newcastle - who are set to hold discussions with the player over his future at the club.
Shocked
"English clubs teach you lots of lessons, but in this case they truly lack ethics and morals," Dabo said.
"Newcastle have invested a lot in this guy and they do not want to lose a lot of money. The club does not care about the law and it shocks me."
Barton is currently serving a six-month jail term which began on 20th May after pleading guilty to charges of assault and affray over an incident in McDonald's in Liverpool city centre on 27th December.