City to open Ronaldinho talks
Eastlands club granted permission by Barca; Jo signing imminent
By James Dall. Last Updated: 09/06/08 7:19am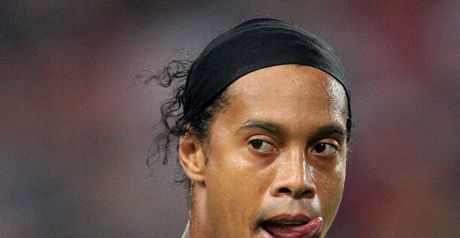 Ronaldinho: Set for City talks
Manchester City have been granted permission to open talks with Barcelona forward Ronaldinho.
"Barcelona have given us clearance to talk to Ronaldinho."
Man City executive chairman Garry Cook Quotes of the week
City have made no secret of their desire to purchase the two-time Fifa World Player of the Year, with owner Thaksin Shinawatra keen to bring a big-name signing to Eastlands.
And executive chairman Garry Cook has revealed that the club is set to discuss terms with the player as recently appointed manager Mark Hughes looks to build his squad for next season.
"It's a tenuous stage and I don't want to give too much away, but Barcelona gave us clearance to talk to him," Cook saio.
World's greatest
"We had some people in Brazil last weekend, who we've been talking to but we have a long, long list of things we need to get done because of the type of player he is - the world's greatest player.
"We're nowhere near completion but the most important thing is that he wants to get back and play football. He wants to show the world he is the greatest player. At the moment, though, we're just ticking off the boxes.
"He has intimated he is interested, otherwise we wouldn't be at the stage we are now. Ronaldinho has an interest in coming to City
"I think the Manchester City fans, who are the most important part of this, would like to see Ronaldinho kicking off next season here."
Jo capture
Cook also confirmed that City are on the brink of completing the capture of CSKA Moscow striker Jo.
"We're almost there (with Jo). It might be in the next seven days, sooner if possible," Cook continued.
"What's great to me is that a year ago we were looking at a very different player profile, so we are very excited by it.
"We want to set targets for ourselves individually, play better and get better. Mark does too and wants to work with that type of player."