IPL motivates Martin
Kiwi fast bowler hoping to follow team-mates to India
Last Updated: 14/05/08 7:47am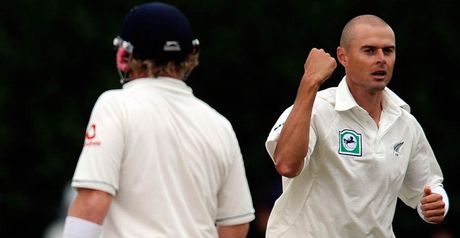 Martin: IPL hopes
New Zealand fast bowler Chris Martin is hoping to attract the eye of the Indian Premier League teams with a successful series in England.
The 33-year-old is the most experienced of the Black Caps not to be involved in the inaugural competition, with Daniel Vettori, Brendon McCullum and Jacob Oram all involved before heading to England.
And having seen his team-mates get involved in the competition, Martin is keen to play a part as the IPL continues to grow.
Martin said: "It inspires me to get myself over there.
"As far as a New Zealand player goes it is an important financial incentive to get yourself into India.
"For a young guy coming up, playing cricket in New Zealand it is a passage you should be following.
"It's a superannuation plan: if you can get your name up in lights and somebody with a wad of rupees is willing to spend money on you to play cricket in their country it is not something to turn down.
Energy
"It is a supplement to your career and means you focus even more time and energy on playing for your country."
Martin, though, will need to work on his batting if he is to play some part in the IPL with an average of 2.55 from 40 Tests unlikely to have many side's paying out big money for his services.
However Martin insists a bombardment of bouncers from England Lions bowler Chris Tremlett at the Rose Bowl has worked in his favour.
"That has woken me up to the fact that it's important to get bat in front of the ball instead of the body," said Martin.
"For me double figures has always been pretty good.
"Relaying the message from what I see to my hands and my feet has always been a bit of a problem.
"There is a slight mental block as well with my batting - when I was younger I know I wasn't as handicapped as I am now.
"I also understand that playing at this level that there is not a lot of room to move if you have limited ability."