Huxley may never play again
Doctors discover Brumbies back has been playing with a brain tumour
Last Updated: 04/03/08 8:07am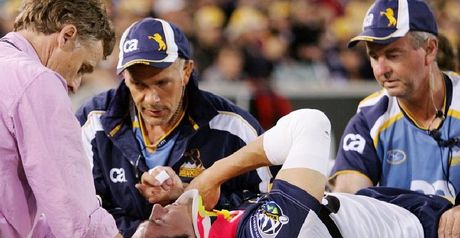 Huxley: Leaving the field on Saturday
Australian World Cup utility back Julian Huxley has been diagnosed with a brain tumour after suffering concussion while on duty for Brumbies at the weekend.
"The tumour, at the top of his brain, is believed to be benign."
Brumbies Quotes of the week
The 28-year-old underwent precautionary MRI scans following his mistimed head-on tackle during the Super 14s match against Queensland Reds in Canberra on Saturday.
Huxley was taken to Canberra hospital after convulsing on the field and it is not clear whether he will ever be able to return to action.
"It was a huge shock when the doctor told me I have a tumour," he said. "It's obviously been with me for some time and I've never felt any sort of illness.
"The challenge for me now is to get on with gathering the best advice from the specialists and neurosurgeons, dealing with it and recovering as quickly as I can."
Belief
While shocked, club officials remain convinced their man will pull through.
"The tumour, at the top of his brain, is believed to be benign. He has been referred to a neurosurgeon for further investigation and management," the Brumbies said.
Club chief executive Andrew Fagan said: "The news has shaken all of us at Brumbies Rugby. He is a great bloke and an important member of the team and the Canberra community.
"Our thoughts and prayers are with Julian and his family and we look forward to his full recovery."