Fred deal to be sorted this week
Striker's wage demands proving to be a problem
By Patrick Haond. Last Updated: 14/01/08 11:43am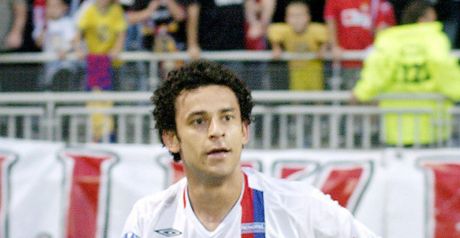 Fred: Keen to leave Lyon
Lyon's Brazilian striker Fred claims that his future should be resolved by the middle of this week.
The player has made it clear that he is no longer happy at the Stade de Gerland and a host of clubs have been fighting it out for his signature since the transfer window opened.
With offers from Portsmouth, Middlesbrough, Tottenham and Paris St Germain all believed to have been accepted by Lyon, the decision as to where he moves next now rests with Fred.
Two offers
"There will be some meetings this week with my brother (and agent)," he told L'Equipe.
"I believe we will sort it out before Wednesday.
"I have received propositions from just two clubs so far, Paris and Tottenham.
"Lyon have talked to other clubs, but I have not as yet.
No agreement
"PSG made me the first proposition and I refused it. It was then exactly the same with Tottenham.
"If we can't reach an agreement I will stay at Lyon. That is not a problem."
With the striker seemingly unwilling to even contemplate a move to Boro or Pompey, it appears that any deal will require PSG or Spurs to increase their current offers in order to meet the player's wage demands, believed to be around €4million (£3million) a year.