KP situation 'sad' - Flower
Head coach laments issues surrounding Pietersen's absence
Last Updated: 22/08/12 9:10am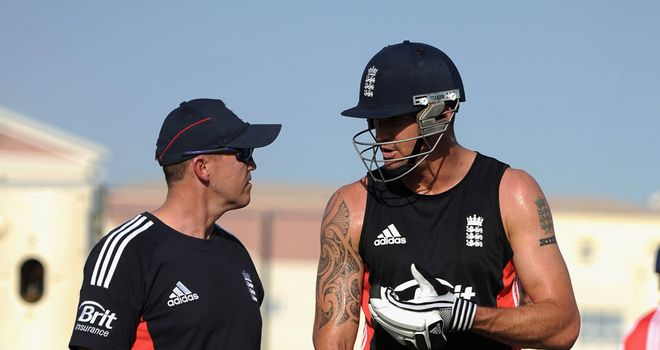 Andy Flower (L) with Kevin Pietersen: Issues need to be resolved
Andy Flower says a resolution between Kevin Pietersen and England needs to be thrashed out face-to-face.
Pietersen was predictably omitted from England's squads for the upcoming one-day internationals and next month's Twenty20 World Cup after the texting saga that saw him dropped from the Test side.
"There are deeper issues, certainly of trust and mutual respect that need to be addressed. "
Andy Flower Quotes of the week
England are understood to be significantly concerned about the exact content of messages Pietersen sent to opposition players during the drawn Test against South Africa at Headingley.
And Flower said no progress can be made for Pietersen's possible re-integration into the team in any format until talks are held between the player and management.
The texts reportedly included derogatory references to his Test captain Andrew Strauss, while other issues surrounding Pietersen's contract wrangles have brought about what the head coach called a 'sad situation'.
"Let me be clear - this is not just an issue between the captain and Kevin," said Flower. "There are deeper issues, certainly of trust and mutual respect that need to be addressed.
"There are unresolved issues that have reared their heads in recent weeks, and they have to be resolved before there is any way forward.
"You resolve these issues face-to-face with people, not through PR agencies. If this matter is going to get resolved, that is how it's going to have to be.
"Andrew Strauss and I have worked very closely and very well together over the years, and we will continue to do so over this issue."
Flower voiced his regret that Pietersen had effectively made his position in the England team untenable.
"It's a very sad situation for everyone involved," he added. "He played superbly at the last Twenty20 World Cup, but the circumstances that exist at the moment mean he can't be selected for us.
"There are still unresolved issues, and we will be addressing those issues when we have time to do so."