'Proudest moment' for Ansbro
Centre prepares to make Scotland debut
Last Updated: 19/11/10 4:11pm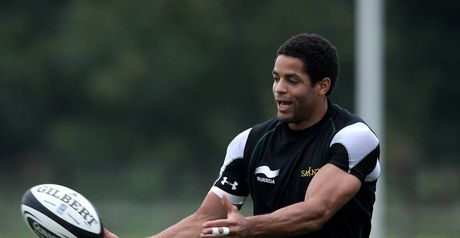 Ansbro: Pride at debut
Joe Ansbro says that making his Scotland debut against South Africa on Saturday will be the proudest moment of his rugby career.
"It's the proudest moment in my rugby career and with the right performance it will mean a lot more than that."
Joe Ansbro Quotes of the week
The 25-year-old centre will replace the injured Max Evans in the starting XV for the clash with the Springboks at Murrayfield.
His appearance will also represent a landmark beyond his own personal achievement as he will become the first black player to represent Scotland in the sport.
But Ansbro does not put any particular emphasis on the historic achievement and instead says that his pride will be as a result of representing his country.
"It's never defined me. The way I've been brought up, throughout my entire life, it's never been an issue," he told the Scotland team's official website.
Proud
"For me this is just all about playing for Scotland and putting in a good performance. It's the proudest moment in my rugby career and with the right performance it will mean a lot more than that."
Ansbro, who was born in Glasgow but went to Cambridge University after attending Stonyhurst College in Lancashire, knows he will be given a baptism of fire against South Africa.
He added: "I'm very much looking forward to it because I know it's going to be like nothing else I've ever experienced in rugby.
"There's nothing that can prepare you for that. I've just got to stay focused, stay confident.
"They're a fantastic side, a physical side, world champions - this is what you get into rugby for, to play these games at this stadium in front of large crowds."
Injury
Evans was originally named in the Scotland side for the contest but has not recovered in time from the shoulder injury he was stretchered off with in last weekend's 49-3 defeat to New Zealand.
Head coach Andy Robinson, who has made five changes in all, is looking forward to seeing Ansbro make his debut but did not get carried away with his praise.
"He's got some pace and he's got some unknown qualities, which is pleasing. He is pretty physical, he reads the game well and I'm looking forward to seeing him perform," Robinson said.
He added: "Let's not big him up too much. He's got to get on the pitch and just enjoy the game that he's just about to play.
"I think it's key he can get the catch and pass and bring other people into the game, but also get his first couple of carries as well. As he gets that the confidence with exude through him."