Zokora targets Sevilla glory
Former Spurs midfielder aiming to reign in Spain
By Giscard Gourizro. Last Updated: 16/07/09 4:24pm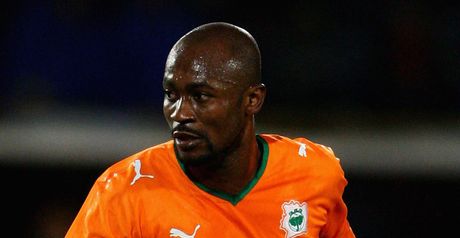 Zokora: Ambitious
Didier Zokora has exclusively told skysports.com that he still loves Tottenham but is now hoping for domestic and European glory with Sevilla.
The 28-year-old Ivory Coast international spent three years at White Hart Lane, winning the League Cup in 2008 and then reaching the final again the following year.
And, after securing a move to Spanish high-flyers Sevilla, Zokora has thanked Spurs for taking his career to the next level.
"This is a great time for me," he told skysports.com.
"To move from one big league to another is very good for my career.
"I had a good start with ASEC Mimosas and then moved on to Genk and St Etienne.
"Tottenham were great for me - I learned a lot in the English league. I think the difference is that English sides have a never-say-die attitude.
"Tottenham is a great club. I loved it there and played in two cup finals.
"I was a bit disappointed never to score for them, but my job was to protect the defence."
Glory
Zokora says he is hugely excited to be moving to Sevilla and is now hoping to make a major impact in La Liga and the UEFA Champions League.
"Seville is a nice city," he said. "The weather will be great for me and my family.
"They're a great team as well, with great players.
"I want to win La Liga and do really well in the Champions League.
"Real and Barca are the favourites, but we can have a big say in who will win the league."